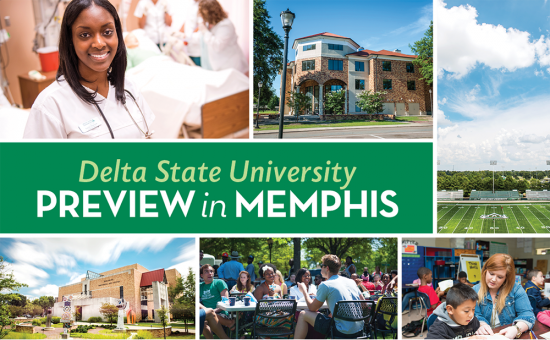 Delta State University is hosting an event in The River City Feb. 3 called Preview in Memphis, an interactive college fair for potential students in the greater Memphis area.
Memphis and North Mississippi students, parents, counselors, alumni and friends are invited to The Great Hall & Conference Center in Germantown from 4:30-7 p.m. The center is located at 1900 S. Germantown Rd.
President William N. LaForge, administrative and academic representatives, and current students will be on hand to talk one-on-one about the university's undergraduate and graduate degree programs, financial aid, scholarships, campus life and more.
Delta State does not charge out-of-state tuition fees, making it a major attraction for Memphis area students.
Senior Admissions Recruiter, Angela Carter, said the event is sure to be a beneficial experience for prospective students.
"The academic fair will assist students in selecting a major. Students will be able to meet their future Delta State professors, explore and ask questions about several career choices that they may have in mind," said Carter. "DSU is a great college choice for Memphis students because they're able to gain a quality education at an affordable price — and be close to home but not too close.
"I'm really looking forward to meeting people and sharing information about my alma mater."
The goal behind Preview in Memphis is convenience and accessibility for those interested in Delta State. More than 20 academic departments will be available to answer questions about classes and career paths. Additional breakout sessions will be provided at 5 p.m. and 6 p.m. with information from LaForge, the Office of Financial Aid, Admissions and more.
Door prizes will be given away after each session, and light refreshments will be served. The come-and-go atmosphere will include kid-friendly activities.
For more information, visit www.deltastate.edu/preview or contact Angela Carter at 662-402-0860 or acarter@deltastate.edu.