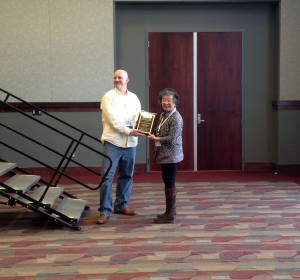 The MS Delta Chinese Heritage Museum was recently selected to receive the prestigious Ernest M. Pon Memorial Award from the National Association for Ethnic Studies (NAES). 
The museum opened in October of 2012 in the Capps Archives and Museum on the campus of Delta State University and is free and open to the public.
"I was completely and pleasantly surprised when I received word that the museum had been recognized by the NAES and that we would receive an award at their national meeting in March," said Delta State University archivist Emily Jones. "We have had visitors from all over the United States stop through the museum to learn more about the special history of the Chinese communities in the Mississippi Delta, and I am often told that our story is spread by word of mouth.
"I am so thankful to the city of Cleveland and Delta State University for the collaborative effort of preserving this history with the MS Delta Chinese Heritage Museum board."
The Ernest M. Pon award recognizes Asian American organizations dedicated to advancing the causes of human rights and equal justice. Award committee co-chair Natchee Barnd shared, "Your organization's effort to promote and educate the public concerning the Chinese American heritage in the state of Mississippi and beyond clearly promotes both of these ideals."
Upon receiving the award, MS Delta Chinese Heritage Museum board member and secretary, Frieda Seu Quon, said the recognition reinforced what she already knew about the museum's significant impact of preserving important local history.
"The museum allows the Chinese of the Delta to share their life stories with their children and grandchildren and the community of friends they have," she said. "We now have a place to honor our parents and grandparents who worked diligently to provide a life and a future for another generation."
Qon is formerly of Greenville, Miss., where her brothers continue to run the grocery store her father established in the 1930s.
Learn more about the MS Delta Chinese Heritage Museum at http://www.deltastate.edu/academics/libraries/university-archives-museum/ms-delta-chinese-heritage/