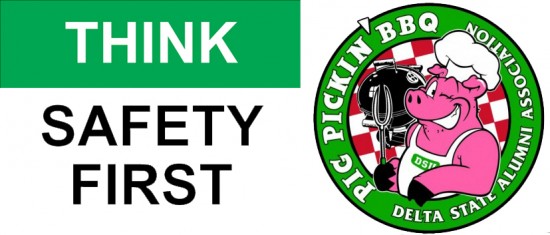 The 30th annual Pig Pickin', hosted by the Delta State University Alumni Association, is a signature event at the university that many alumni, friends, students, parents, faculty and staff visit each year. With the sheer volume of people who will be at Statesmen Park this weekend, it is important that safety remains a top priority and creates the need for rules and regulations. To ensure everyone has a safe and fun experience at Statesmen Park, no vehicles will be allowed at the park.
Tailgaters needing to drop off tents or other heavy items will be allowed to do so before 5 p.m. Friday and before 11:30 a.m. Saturday. After these times, traffic will not be allowed in the park. Parking will be available at the athletics facilities, Shumate Park, Walter Sillers Coliseum, Kent Wyatt Hall and across Miss. Highway 8 on campus. Tailgating behind the visitors' side of the stadium is prohibited. Directional signage will indicate the designated tailgating areas for Pig Pickin' attendees.
Golf carts and ATVs will not be allowed with the exception of officials and staff golf carts. Pets are also not allowed at the event. These rules were put in place to ensure the safety of Pig Pickin' participants, particularly the many children who attend. Video surveillance will be in use at the park.
Pig Pickin' event times at Statesmen Park:
Friday, September 18, 5 p.m. – midnight
Saturday, September 19, Noon – 5 p.m.
The official hashtag for Pig Pickin' is #DSUPigPickin.
For more information, contact the Alumni Association at 662-846-4660. To stay up to date on the Alumni Association's activities, follow these social media sites: Facebook (Statesmen Graduates), Twitter (@DSU_Alumni), Tumblr (http://www.dsualumni.tumblr.com), LinkedIn (DSU alumni), Instagram (dsualumni) and You Tube (dsualumni1).