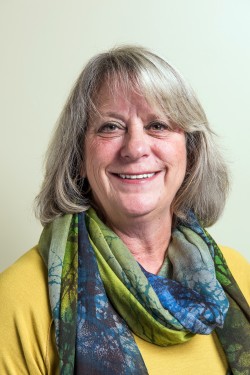 Each year, the Delta State University National Alumni Association recognizes alumni and friends who have brought distinction to the university at the annual Alumni Awards Gala, held during Homecoming weekend. This year's Outstanding Alumnus of the Year, Lucy Richardson Janoush '78, will be honored during a ceremony Nov. 6 at 7 p.m. at the Bologna Performing Arts Center on the campus of Delta State.
At the event, Janoush will also be inducted into the Delta State University Alumni Hall of Fame.
Take a look at what used to be the southeast corner of the Delta State golf course, and you'll notice the latest of Janoush's many civic contributions. Since 2011, Janoush has served as president of the Cleveland Music Foundation Board of Directors, the group responsible for planning, funding, constructing and operating the GRAMMY® Museum Mississippi. The $19 million-dollar facility opens in March of 2016.
The museum, Janoush explained, is a remarkable addition to the Cleveland community, the Delta and the state of Mississippi. It provides limitless cultural opportunities, attracts visitors, encourages business development, and will expand the area's tax revenue. The museum also promises to enrich the offerings of its neighbor, Delta State University.
"I think the partnership is perfect," Janoush said, referring to the consociation of Delta State and the GRAMMY® Museum Mississippi.
This latest project represents just one of many ways Janoush has given back to the school and community that gave her an academic foundation. She started at Delta State in 1974 and graduated Magna Cum Laude in 1978 with a Bachelor of Arts degree in English.
Janoush's maternal grandmother was a Cornell University business school graduate, and her mother, Alyce Richardson, finished at Delta State with a 4.0 grade point average in business.
"Mom got the first diploma the day she had her first baby," she said with a laugh. "She was in the hospital having my sister while my grandfather was at Delta State picking up her diploma."
Her mother was also named Outstanding Alumnus of the Year in 1972.
Janoush's father, Clarence "Rich" Richardson, served in the Marine Corps and then worked as vice president for the family's John Deere dealership in Cleveland. He failed freshman English at Delta State three times, which generated humor within the family because two of his children – Janoush and her brother, Jimbo – earned their undergraduate degrees in English.
Although she planned to become a teacher, Janoush changed her mind during her senior year at Delta State. Instead, she applied for a Title IX fellowship offered by Mississippi State University, where she was awarded the opportunity to earn a Master's in Public Administration – all expenses paid. The one-year program required an internship, so Janoush called her friend Bill LaForge, who at the time was a legislative assistant to U.S. Congressman David Bowen. She was invited to Washington, D.C., and that three-month internship turned into a full-time job that lasted five years.
"The first weekend I was there I met Elizabeth Taylor, and I saw the Pope," Janoush recalled. "I thought, 'Gee, you know, I think I can do this. This is kind of fun.' As time went on, I really liked it."
In 1983, Janoush returned to Cleveland to marry her long-time beau, Paul Janoush. They had two children, Will and Mary Parker. Will, 31, is now a tax attorney in Madison, and he and his wife, Andrea, have two children, Bradford, 3, and Mary Alyce, who is due for a November arrival. Mary Parker, 20, is a junior at the University of Mississippi, majoring in marketing and corporate relations.
Janoush has held multiple professional positions in the Delta, including: 10 years as human resources manager at Baxter Healthcare Corporation; three years as a planner for the South Delta Planning and Development District; and two years as human resources manager for Brandywine Foods, Inc. She also worked for the family's business, Jantran Inc.
She was executive vice president of the Cleveland-Bolivar County Chamber of Commerce and Industrial Development Foundation from 1986-1991. Along with having served on the Chamber's board of directors for 24 years, and still counting, she was president for the 1994-95 term and served on dozens of committees. In 1996 and 2012, Janoush received the prestigious President's Award. She was also honored with the Kossman Award for outstanding volunteer service in 1997.
Tucked in among her family, professional and civic lives, lies Janoush's strong commitment to volunteer work. She was a member of the Cleveland-Bolivar County United Way Board of Directors from 1987-2013 and served as that group's campaign chairman, vice president, and president. Since 1991, she has been a member of the Bolivar County Literacy Council Board of Directors. Additionally, she was on the board of directors for Bolivar Medical Center for five years, was president of the Crosstie Arts Council, and held leadership roles within the Junior Auxiliary of Cleveland.
She was named Junior Auxiliary's "Charity Ball Queen" in 2010, a distinction that recognizes community leaders for outstanding community service. Janoush has also been a member of the First Presbyterian Church her entire life, and has served as a church elder since 2012.
Janoush is quick to credit Delta State for building a foundation upon which she's built her life, career and civic record. Not only did she benefit from the academics, but she also got her leadership start by serving as secretary/treasurer in the student government and as president of Kappa Delta Sorority.
When asked about the Delta State professor who most influenced her, Janoush named Dr. Mariah Butler.
"She was the teacher everyone dreaded because she was very hard," she said. "She was a great teacher, and she taught me how to study. She gave pop quizzes all the time, and some of those questions came from the footnotes. Dr. Butler made sure you got the whole picture."
Looking back, Janoush cites the small class size and close-knit atmosphere of Delta State as major positives.
"PhD's were teaching us freshman and sophomore English," she said. "My freshman composition class was taught by the chairman of the English department, Dr. O.F. White. We weren't being taught by teacher assistants who had their own class loads to worry about."
Currently, Janoush converses and works with business people, politicians, entertainers and civic leaders from across the nation and world. In all of her dealings, she's thankful for her solid academic foundation.
"Is Delta State small? Yes. Is it ranked the highest, academically, in the country? No. But there has always been a very good faculty and a good structure of learning," said Janoush. "Students who go to Delta State and are serious about their studies can graduate and then go wherever they want to go and be whatever they want to be. They're just as capable and competitive as students who went to bigger and more prestigious schools."