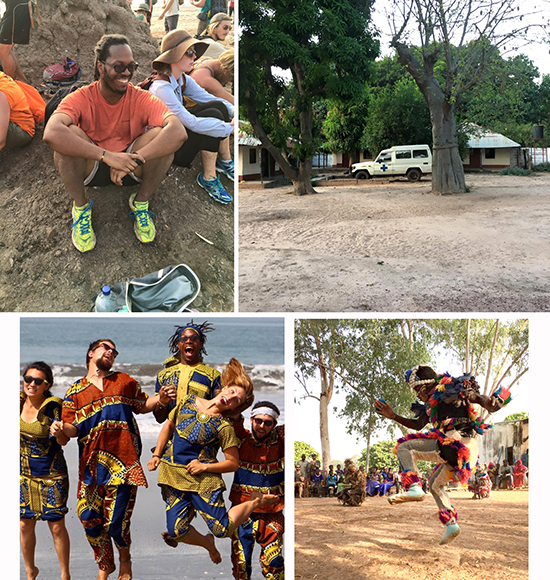 Dominique Rashad Warren, a Delta State University biology graduate in 2013, is making his mark in the world by serving in the Peace Corps. Warren has been with the organization since October of 2015.
Despite being based in a rural area of The Gambia, a small West African country, Delta State Communications and Marketing was able to communicate with the distinguished alumnus via email.
Warren will serve for 27 months as a health extension volunteer, which will allow him to provide malaria, malnutrition and sanitation education, as well as work hands-on and with the people of the country.
"I had no previous connection with The Gambia before applying, but I was interested in the health positions they had available in this country, and the culture looked very interesting," said Warren. "I'm really glad I chose The Gambia as my first choice because this place has lots of history. Being here makes me want to know more about my family history. I feel a deep connection with this place."
The Cleveland native first considered applying to the Peace Corps when his passion to make a global impact grew.
"I always wanted to travel the world, see new places and meet new people, but I couldn't think of a way to do it," he said. "I was very glad I stumbled across the Peace Corps website because it gave me the opportunity to combine my passions. I would be able to help people in need and explore the world at the same time, for free. I don't think you could ever get a better deal than that."
He has already experienced numerous life-changing moments, but his favorite thus far occurred during training in the village of Jalambere.
"My host family there was amazing," said Warren. "Every day after language class I would walk home. As soon as the children saw me they would run full speed to the end of the road to meet me. Sometimes I would have as many as 10 kids holding each of my fingers and singing my name as we walked home. This is easily one of the best experiences of my life."
Warren said the area is quite reminiscent of the Mississippi Delta, but pressing issues plague the region such as education, health care, infrastructure, poor water quality, and lack of electricity and air conditioning.
While at Delta State, he was known for being an active student who made an impact. He was inducted into Delta State University's Hall of Fame in 2013, and was elected Mr. Delta State University the same year. Additionally, he served on the SGA, was a tenor in Delta Singers, was a founder of the Delta Sigma chapter of Sigma Alpha Epsilon fraternity, and worked as a RA and hall director.
Dr. Ellen Green, department chair and associate professor of biology at Delta State, got to know Warren as his teacher.
"The first time I met Rashad in class, we were discussing prospecting for biofuels in various countries," said Green. "In our very first conversation, he told me that he wanted to see the world. Rashad is a natural for the Peace Corps because he is curious, has great work ethic and amazing people skills. Coupled with his biology degree, he is well equipped to tackle the medical mission that he volunteered for as his Peace Corps service.
"Rashad was voted Mr. DSU in his senior year, in large part I think, because of his personality. He became friends with everybody. I expect him to be voted Mr. The Gambia any day now."
Dr. Christy Riddle, executive director of the Student Success Center and International Student Services, said Warren would be a strong representative for Delta State while volunteering.
"While serving with the Peace Corps, Rashad is also a cultural ambassador for DSU," said Riddle. "People say that DSU is the best kept secret in education, and we continuously search for ways to spread the word abroad about the benefits of attending DSU."
While Internet access is extremely hard for Warren to come by, on the rare occasion he gets online, he is blogging about his experiences. Follow Warren's journey at https://rashadinthegambia.wordpress.com.
To stay updated with Delta State news and events, visit www.deltastate.edu.