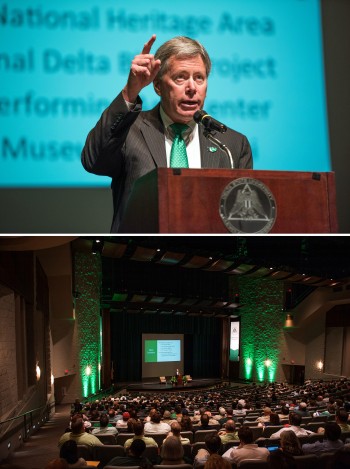 Delta State University President William N. LaForge delivered the annual State of the University address during opening convocation today at the Bologna Performing Arts Center on campus.
The address was titled "On the Path to Excellence" and began with a welcome to faculty and staff as the university begins the new academic calendar and the 91st year of Delta State's storied history.
LaForge characterized the state of the university as "solid and progressing quite well."
"We are successfully tackling major budget and enrollment challenges, building on our strong programmatic foundations, and realizing growth in some key areas," LaForge said in his opening. "I am bullish on Delta State and our future, and I am confident that we are on a path to excellence. It continues to be my distinct honor to serve you, our students and alumni, and our community."
The president organized the bulk of his speech into six categories: academics, student recruitment and student success, business and finance, campus facilities and grounds, the Delta State family, and visioning — the next steps on the path to excellence.
LaForge said the institution's academic standing remains strong following recent accreditation reaffirmation by the Southern Association of Colleges and Schools Commission on Colleges.
"This past year, we successfully completed institutional reaccreditation by SACSCOC, our national credentialing agency — a result that is critical to our very existence," said LaForge.
While highlighting a number of academic achievements, the president also praised a number of programs showing significant progress.
"Across the academy, we are seeing growth — in nursing programs, social work, DMI Entertainment Industry Studies, geospatial, and pre-professional health related programs in the sciences; in masters programs in teaching, counseling, and health, physical education and recreation; and, in health care administration, commercial aviation, and computer information systems — all programs that continue to distinguish the university and attract more students."
In relation to student recruitment, LaForge said the university understands the challenges it faces, but recruitment efforts will remain at the forefront.
"The marketplace for new students is very competitive, especially in light of the shrinking pool of Mississippi prospects, the success of certain Division I football teams last fall, and the attractiveness of community colleges because of their low tuition," he said. "Recruitment continues to be a major priority for us because it is our lifeblood and it drives our revenue — tuition dollars plus credit hour production that factor into our state funding formula."
Major efforts have been made university-wide to boost student success rates on campus. LaForge credited the Student Success Center, Academic Support Lab, Okra Scholars programing and the Early Alert Program for being critical to student retention.
In financial news, a focus of the administration the past couple years has been budget-cutting exercises. These exercises led to permanent budget cuts and program eliminations that will produce $1 million dollars in savings over the next year. Due to these savings, the university was able to offer pay raises to faculty and staff for the first time in years.
While tuition rates have held steady at $6,012 annually for the past three years, LaForge said the time is right to implement a tuition increase for the 2016-17 academic year. The additional revenue will help support another round of pay raises, faculty professional development, and other needs.
Turning to the campus environment, LaForge said there will be a number of physical improvements taking place at campus facilities. Multiple streets will be torn up and repaved, the dining hall will undergo a multi-million dollar facelift, Caylor/White-Walters renovations will be complete this academic year, and planning is underway for renovations at Zeigel Hall and the Walter Sillers Coliseum over the next few years. Reconstruction of the baseball stadium is nearing completion and will be dedicated in October.
In November, GRAMMY Museum Mississippi will open on campus, and the event is sure to draw visitors from around the globe. Delta State has entered into a formal educational partnership with the museum, which promises to bring outstanding programs in the years ahead.
LaForge then turned to matters involving the Delta State family and noted the loss of some very special people this past year, including Billie Breland, Joe Garrison, Henry Outlaw, Stan Sandroni, Dorothy Shawhan and Hugh Ellis Walker — all of whom were key members of the university family. All were honored with a moment of silence.
The president then announced the fifth Legend of Delta State, renowned baseball coach Dave "Boo" Ferriss, whose induction will be Oct. 3, in conjunction with the dedication of the new baseball stadium and of a statue in his honor.
In his final topic, LaForge discussed what it would take to elevate the university and its programs to the next level of success.
"At the recent President's Cabinet Advance, we began a discussion of 'big-think' issues that will lay the foundation for our collective vision and the next steps on the path of excellence for Delta State," said LaForge. "We focused on increasing academic distinction by ratcheting up support for student achievement and faculty professional development. We envisioned myriad future projects and programs — too many to mention here — that will help determine what Delta State looks like in 2025, our centennial year."
Like the university community as a whole, LaForge remains hopeful of more positive growth at Delta State. He urged faculty and staff to be a constant source of inspiration.
"I ask you to grasp and follow a vision for what you do, to make a commitment to that vision, to see purpose in what you do each day, and to have passion in the way you do it," said LaForge. "Go boldly into this new academic year to prepare the next generation for the realities of the world and what we all hope will be a bright future."