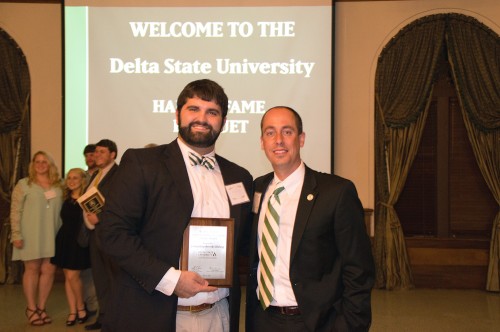 The Delta State University Alumni Association recently awarded Student Alumni Association President Brooks Bishop with the H.L. Nowell Student Alumni Association Service Award at the annual Student Hall of Fame Banquet.
The award is named for Henry Lee "H.L." Nowell Jr., who worked at Delta State from 1948-1987. During his 40-year career, Nowell served in numerous capacities including: dean of men, dean of students, director of student activities, director of public relations, Delta State's first director of the Student Union and first paid alumni secretary.
The award is given each year to the SAA member who has given tireless effort and generosity throughout the academic school year.
Bishop will complete his degree in business management in December of 2015. He has been a member of SAA since his freshman year. He is a native of Clarksdale.
The National Alumni Association is also in charge of getting a speaker each year for the HOF banquet. This year's speaker was alumnus Michael Aguzzi. A Cleveland native, Aguzzi is a farmer with his family's rice and soybean operation in Bolivar County.
Aguzzi graduated in 1997 with a bachelor's degree in business administration in computer information systems and marketing. As a student, he held various Student Government Association positions, served as SAA president and was inducted into Omicron Delta Kappa.
He was also named to the DSU Student Hall of Fame in 1997 and was elected vice president of his graduating class. Aguzzi's extensive involvement as a young alumnus includes continued service to Delta State as well as the Cleveland community.
Notable achievements also include serving on DSU Green and White Fund Board, three terms on the National Alumni Association Board of Directors serving as Young Alumni representative and Northern MS representative.
Aguzzi currently serves as the board president for the Cleveland-Bolivar County Chamber of Commerce. Professional involvement includes serving on Mississippi Farm Bureau Federation's Young Farmer and Rancher State Committee, as well as the Bolivar County Farm Bureau Federation Board of Directors, where he is past president. He has also served Delta Council as a board member and vice president.
For more information, contact the Alumni Association at 662-846-4660. To stay up to date on the Alumni Association's activities, follow these social media sites: Facebook (Statesmen Graduates), Twitter (@DSU_Alumni), Tumblr (http://www.dsualumni.tumblr.com), LinkedIn (DSU alumni), Instagram (dsualumni)and You Tube (dsualumni1).