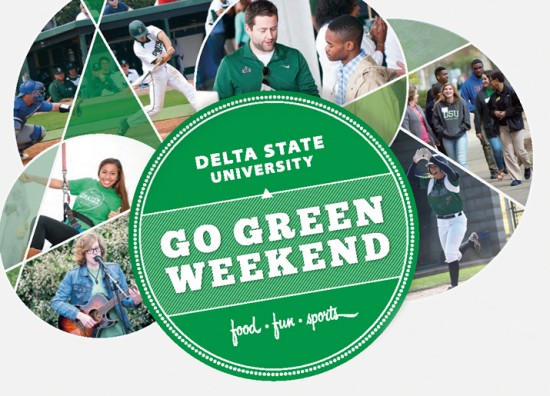 The Delta State University community eagerly awaits the third annual Go Green Weekend, scheduled on campus April 1-3.
The exciting program of activities is sponsored by Delta State's Office of Admissions, National Alumni Association, Athletics and Student Government Association.
The weekend serves as a get-together for current students, alumni, friends, faculty and staff on campus. Events include live entertainment Friday night, Admissions Day for prospective students, and a Cook Team Competition on Saturday. There will also be a number of athletic events going on throughout the weekend.
Applications and rules are now available for cook teams at:
http://www.deltastate.edu/university-relations/wp-content/uploads/sites/12/gravity_forms/4-09fb840ae69fd8815b92eccab41a538f/2016/03/CookTeamApplication2016.pdf.
Categories include Jambalaya Any Way and Sausage Any Way.
"This is a time for Delta State's past, present, and future students to come together and enjoy a fun atmosphere at their alma mater," said Jeffrey Farris. "The full schedule is available on the Delta State website."
The full athletics schedule can be found here. Follow Go Green Weekend schedule updates at http://www.deltastate.edu/undergraduate-admissions/visiting-campus/go-green-weekend/.