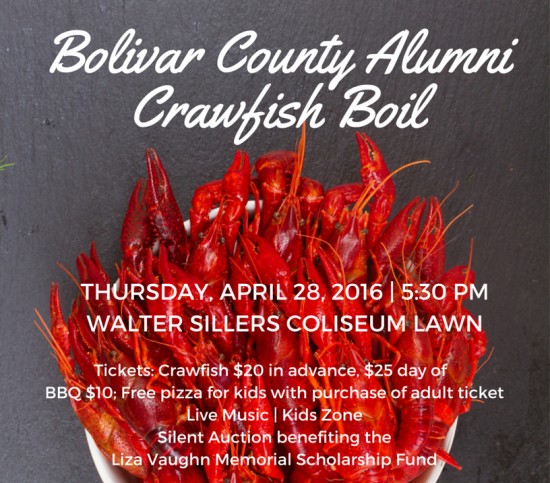 The Delta State University Alumni Association has been busy planning the annual Bolivar County Alumni Crawfish Boil. This year's event will be April 28 at 5:30 p.m. in front of Walter Sillers Coliseum.
In addition to crawfish, BBQ plates can also be purchased. Free Domino's pizza will be available to children 12 and under with the purchase of an adult ticket. There will also be a silent auction and a Kids Zone. Live entertainment will be provided by the Delta All Star Cheerleaders, Fusion Gymnastics and Delta Blaze Competition Cheer.
Tickets for crawfish are $20 in advance or $25 at the door. BBQ tickets are $10. Tickets can be purchased at the Hugh Ellis Walker Alumni-Foundation House, online at www.deltastategiving.org/alumniassociation/bolivarcountycrawfishboil, or at the door.
All alumni, friends, students, faculty and staff are invited to attend. Proceeds from tickets, the silent auction and sponsorships benefit the Liza Vaughn Memorial Scholarship Fund, which provides scholarships to incoming Delta State students from Bolivar County. This scholarship was established in 2011 and was named for past assistant director of Alumni Affairs, Liza Vaughn, who lost her battle with cancer in April of 2012. To donate to the scholarship, visit https://www.deltastategiving.org/alumniassociation/lizavaughnmemorialscholarshipfund.
"The Delta State Bolivar County Alumni Chapter's top priority is to raise scholarship dollars for students who attend Delta State from Bolivar County," said Will Bradham, president of the Bolivar County Chapter.
This year, the Alumni Association is teaming up with Athletics to provide a photo booth with the Delta State coaches from 5:30–7:30 p.m. Visitors will be able to take photos with their favorite Delta State coaches.
Fans who use the Statesmen Nation app will be able to receive points for attending the crawfish boil.
The event would not be possible without the generosity of sponsors. Corporate Sponsors include: Statesmen Level – Bolivar Medical Center and Polk's Meat Products; Okra Level – Patrick Davis State Farm, Air Evac Lifeteam, Hey Joe's, Celia Manley ERA and Renasant Bank. This year's event sponsors include: Okra Level – Guaranty Bank, Boyle Lumber Company, Needle Speciality Products, Yo Eddie BBQ, Kossman's, Majic 107.5, Delta Radio, Domino's, Delta Maids, Right at Home Healthcare; Green Level – Auto Mark, Nehi Bottling, Planters Bank, Denton's Dairy, Statewide Federal Credit Union, Cleveland Lumber, Lipscomb Oil Company, Mississippi Land Bank, Ray Funeral Home, Shipp Family Eyecare, Ten Twenty Four, The Image Specialist, Hardy & Associates, PA and Griffith Real Estate; White Level – Robinson Electric Company, South Street Pharmacy, Backdraft, Bolivar Tire and Alignment, H Squared Ladies Wear, New York Life, Joe Reed & Co., Sonic Drive-In, Cleveland State Bank, Byrd Service Station, Peltan Eye & Laser, Todd Walley Plumbing, Williams Equipment & Supply, Cleveland Apartments, Abraham's, Harmony Lanes and Flatlanders.
Join the Facebook Event page at https://www.facebook.com/events/183381515388241/. To stay up to date on the Alumni Association's activities, follow these social media sites: Facebook (Statesmen Graduates), Twitter (@DSU_Alumni), Tumblr (http://www.dsualumni.tumblr.com), LinkedIn (DSU alumni), Instagram (dsualumni) and You Tube (dsualumni1). Save the date for this year's Pig Pickin' (Sept. 24) and Homecoming (Oct. 15).