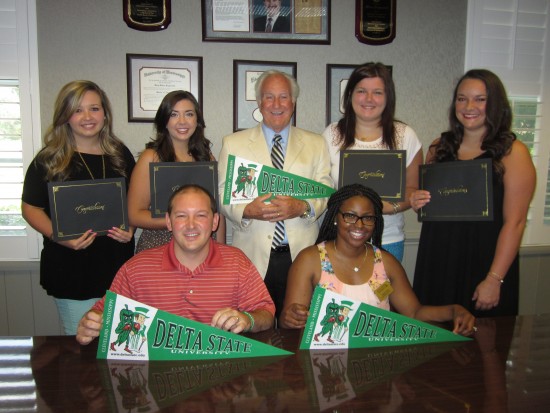 The Delta State University Alumni Association will hold its annual Desoto County Alumni gathering Aug. 8 at the BankPlus Training Center in Southaven. The event begins at 6 p.m. with a social hour, followed by campus updates from President William N. LaForge and the Alumni-Foundation staff members.
There will also be a silent auction to benefit the Desoto County Alumni Scholarship fund. This scholarship is awarded annually to students in the county who will begin studying at Delta State in the fall. This year's recipients are Natalie Howarth and Kayla Savage.
"My family looks forward to this event every year. I think the kids enjoy it as much as my wife and I do," said Hank Ludwig, founding member of the chapter. "It provides an opportunity to visit with old friends that you don't see as often as you would like and make new acquaintances, all while raising funds for scholarships awarded to Desoto County High School seniors headed to DSU."
The chapter will also recognize Milton Kuykendall, superintendent of Desoto County Schools and Delta State graduate. More details of the event will be released in the coming weeks. For more information, contact the Alumni Association at 662-846-4660.
To stay up to date on the Alumni Association's activities, follow these social media sites: Facebook (Statesmen Graduates), Twitter (@DSU_Alumni), Tumblr (http://www.dsualumni.tumblr.com), LinkedIn (DSU alumni), Instagram (dsualumni) and You Tube (dsualumni1).