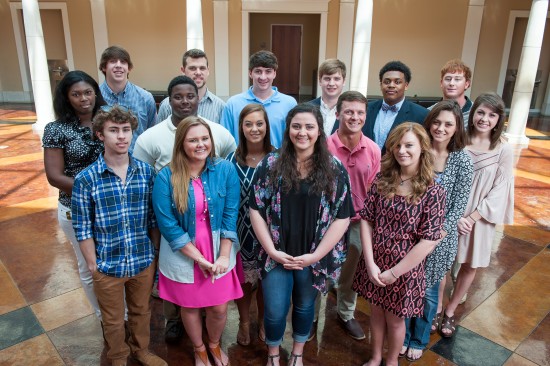 The Delta State University National Alumni Association is committed to providing scholarships for students whose parents are alumni. The Hugh Ellis Walker Alumni Scholarship is a one-time $500 scholarship given to incoming freshmen or transfer students whose parents are dues-paying members of the Alumni Association.
Walker served as the Alumni Secretary from 1969-1987. In 1987, he was named executive director of the Alumni-Foundation. The Hugh Ellis Walker Alumni-Foundation House was dedicated in his honor in 1996, and he was inducted into the Alumni Hall of Fame in 2011. Walker was named Outstanding Alumnus of the Year in 2013. Sadly, he passed away in November of 2014.
Over the past five years, more than 100 students have received the scholarship. There were 36 recipients this year, more than any previous year. The increase is due in large part to the Sustaining Life Member Program. The membership program was launched in 2013 as a way for paid-in-full life members to continue their support to the Alumni Association. The $100 annual gift goes to fund the Hugh Ellis Walker Scholarships.
"The Alumni Association continues to grow the number of scholarships that are given to children of alumni each year," said Jeffrey Farris, director of Alumni Affairs.
This year's recipient of the scholarship are: Madison Atkinson of Batesville; James Beavers of Senatobia; Caroline Bickley of Olive Branch; Travis Cooper of Shaw; Brittany Earls of Merigold; Andrew Farmer of Greenville; Meri Fleming of Lake Village; Seth Fountain of Argyle, Texas; William Goff of Duck Hill; Adam Green of Clarksdale; Emily Grossi of Marks; Jonathan Haynes of Cleveland; Christopher Holly of Grenada; Katherine Jackson of Cleveland; Regilyn Keys of Clarksdale; Hannah Kistemaker of Mooresville, S.C.; Tyler Kitchings of Shaw; Callie Blake Masterson of Batesville; Brandi Matthews of Cleveland; William McCall of Olive Branch; Lauren McCoy of Memphis, Tenn,; Sheldon Moore of Holcomb; Dillon Norwood of Cleveland; Gregory Peacock of Cleveland; Jordan Pullen of Sardis; Lauren Richards of Yazoo City; Grace Rutledge of Cleveland; Walter Shepherd of Flora; Grayson Sims of Batesville; Sarah Stevens of Indianola; Larry Tyer of Opelika, Ala.; Tyler Vaughn of Cleveland; Thomas Whatley of Cleveland; Brianna Walker of Ruleville; Kira Power of Cleveland; and Jenny Clare Christopher of Grenada.
To give to the Hugh Ellis Walker Alumni Scholarship Fund, visit http://www.deltastategiving.org/giving/scholarships/hughelliswalkeralumnischolarshipfund.
For more information, contact the Alumni Association at 662-846-4660. To stay up to date on the Alumni Association's activities, follow these social media sites: Facebook (Statesmen Graduates), Twitter (@DSU_Alumni), Tumblr (http://www.dsualumni.tumblr.com), LinkedIn (DSU alumni), Instagram (dsualumni) and You Tube (dsualumni1).Save the date for next year's Pig Pickin' (September 19, 2015) and Homecoming (November 7, 2015).