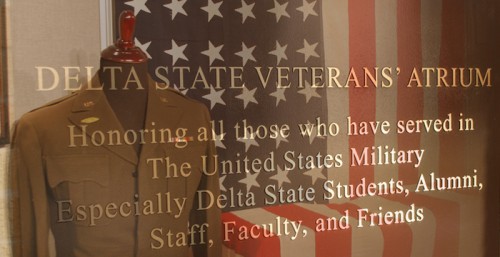 Honoring veterans has become a tradition each year during Homecoming festivities at Delta State University. This year marks the eighth annual Veteran's Recognition Program.
The program will be held in the Veterans Atrium of Jobe Hall on Saturday at 11 a.m. The salute will feature music by the Delta State University Chamber Singers and Delta State music faculty and students. Cleveland community members will also participate in the music.
Each military branch will be recognized, and all service songs will be performed.
Dr. James Robinson, retired Delta State history professor and 1968 graduate, helped make the dream of the Veterans Atrium become a reality. After noticing that the existing fountain in the atrium of Jobe Hall was not working and that students were not utilizing the space, he had the idea of turning the area into a tribute to veterans.
The Veterans Atrium was born in 2006 after Robinson teamed up with the Alumni and Foundation Office, under the direction of Vicki Fioranelli (director emeritus of Alumni Affairs) and the Golden Circle. It consists of a fountain and a memorial, which includes a bronze tree honoring veterans who were alumni, faculty, staff, students or friends of Delta State. There is also a bookcase which includes service records for the honored veterans.
Refreshments will be served prior to the program, and the Veterans Atrium can be viewed beginning at 10 a.m.
The official hashtag for the 2015 Homecoming is #DSUHC15. For more information, contact the Alumni Association at 662-846-4660.
To stay up to date on the Alumni Association's activities, follow these social media sites: Facebook (Statesmen Graduates), Twitter (@DSU_Alumni), Tumblr (www.dsualumni.tumblr.com), LinkedIn (DSU alumni), Instagram (dsualumni) and You Tube (dsualumni1).