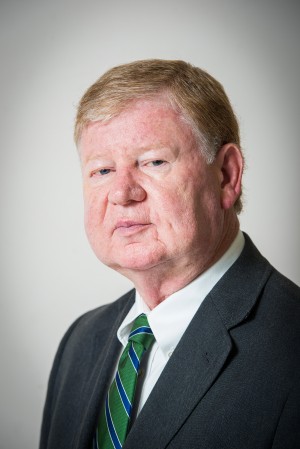 Delta State University and supporters from the community will gather Oct. 17 at 3:30 p.m. to honor one of the university's most beloved leaders, Dr. Wayne Blansett, recently retired vice president of Student Affairs.
To recognize Blansett's 40 years of dedication to the institution, Delta State will hold a naming dedication to rename New Men's Residence Hall to Blansett Hall. The ceremony will also include a reception in the lobby following the main event.
Over the past four decades, Blansett has remained a fixture as one of the most respected leaders at Delta State. Serving the green and white for nearly half of the institution's existence, Blansett retired at the end of the academic calendar in June of 2015.
Most recently serving as vice president of Student Affairs — 1993 to 2015 — Blansett has been a role model and mentor for countless students in Delta State's storied history. As he put it, his job was to improve the total development of students at the university.
"I started working at Delta State when I was 23-years-old," said Blansett in a previous press release. "I've had a long and rewarding career, and I will certainly miss the interactions with students, staff and the entire Delta State family."
The true leader is also a proud alumnus of Delta State, receiving a Bachelor of Science in Education in 1973, Master of Education in Counseling in 1974 and a Doctorate of Education in Professional Studies in 1988.
Shortly after his graduate studies, Blansett began working for his alma mater as the assistant dean of students from 1975-1980. He then progressed as the director of Student Activities (1980-1984), associate dean of Student Affairs (1984-1990) and dean of Student Affairs (1990-1993).
Delta State University President William N. LaForge, who has been Blansett's longtime friend and colleague, said the building dedication is an appropriate way to pay tribute to Blansett's outstanding service to the university.
"No one bleeds 'Green and White' more than Wayne Blansett," said LaForge. "It is very difficult to say a professional farewell to someone who has given his entire career to this university and who has had such an enormous and positive impact on thousands of students during his 40 years of service in the student affairs arena."
Continue to follow Delta State's daily news feed at www.deltastate.edu for more information on Blansett's building dedication.