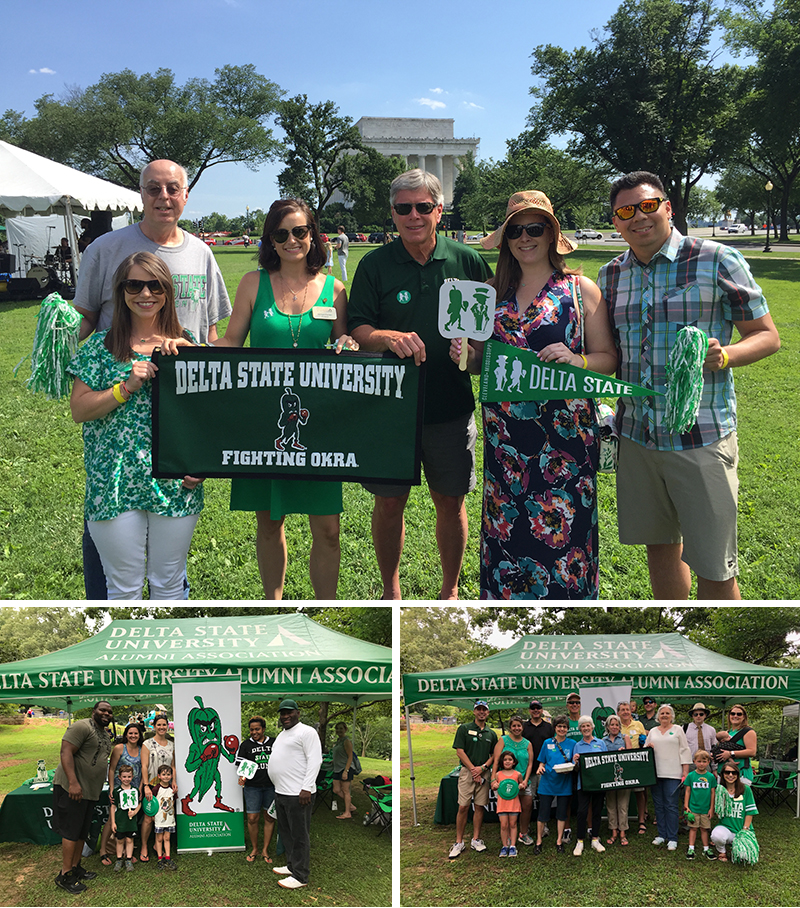 The 28th annual Mississippi on the Mall and 9th annual Mississippi in the Park recently allowed Delta State alumni and fellow Mississippians to celebrate their home state by visiting with alumni staff and vendors.
On June 16, Mississippi Society of Washington, D.C. hosted the annual Mississippi on the Mall event at the Henry Bacon Ball Field beside the Lincoln Memorial. This year's event included Simmons' Mississippi Farm-Raised Catfish, fellowship and live music featuring the Brian Farley Band. Delta State University President, William N. LaForge; Assistant Alumni Director, Amanda Robinson; and National Alumni Association President, Sayward Fortner '04, represented Delta State. The university has 25 alumni living in Washington, D.C., but also invited guests from the greater area.
"Mississippi on the Mall presented a wonderful opportunity to connect with alumni and friends in Washington, D.C.," said Robinson. "It's important our institution is represented alongside the other institutions of higher learning in the state of Mississippi."
See more photos from the event at https://www.flickr.com/photos/dsualumni/albums/72157695240340482.
The Mississippi Society of Georgia hosted the Mississippi in the Park event in Atlanta on June 22-23. Mississippians occupied a special section of the crowd at the Atlanta Braves baseball game at SunTrust Park. Guests also gathered at Chastain Park in Buckhead to enjoy Penn's catfish and chicken, live music featuring The Shufflejunkies, and fellowship with Mississippi universities alumni associations.
Additionally, the society presented a $1,000 scholarship for a Class of 2018 Georgia high school senior to attend a four-year Mississippi institution in the fall of 2018.
"The Mississippi Society of Georgia volunteers are a joy to work with," said Jeffrey Farris, director of alumni affairs. "Special thank you to alums BJ Abraham '64, Toni Jernigan '66 and Bob White '73, who volunteer on the planning committee."
Farris and Robinson represented the university at the event.
View photos from the Atlanta event at https://www.flickr.com/photos/dsualumni/albums/72157698405453355.
The Greater Jackson Alumni Chapter will hold its meeting on July 19 at the Jackson Yacht Club. The DeSoto County Alumni Chapter will meet on Aug. 4 at the Bank Plus Training Center in Southaven. On Aug. 7, the Leflore County/Greenwood Alumni Chapter will meet.
To stay up to date on the Alumni Association's activities, follow these social media sites: Facebook (Statesmen Graduates), Twitter (@DSU_Alumni), LinkedIn (DSU alumni), Instagram (dsualumni) and You Tube (dsualumni1). Save the date for this year's Pig Pickin' (Sept. 21–22) and Homecoming (Nov. 9-10).