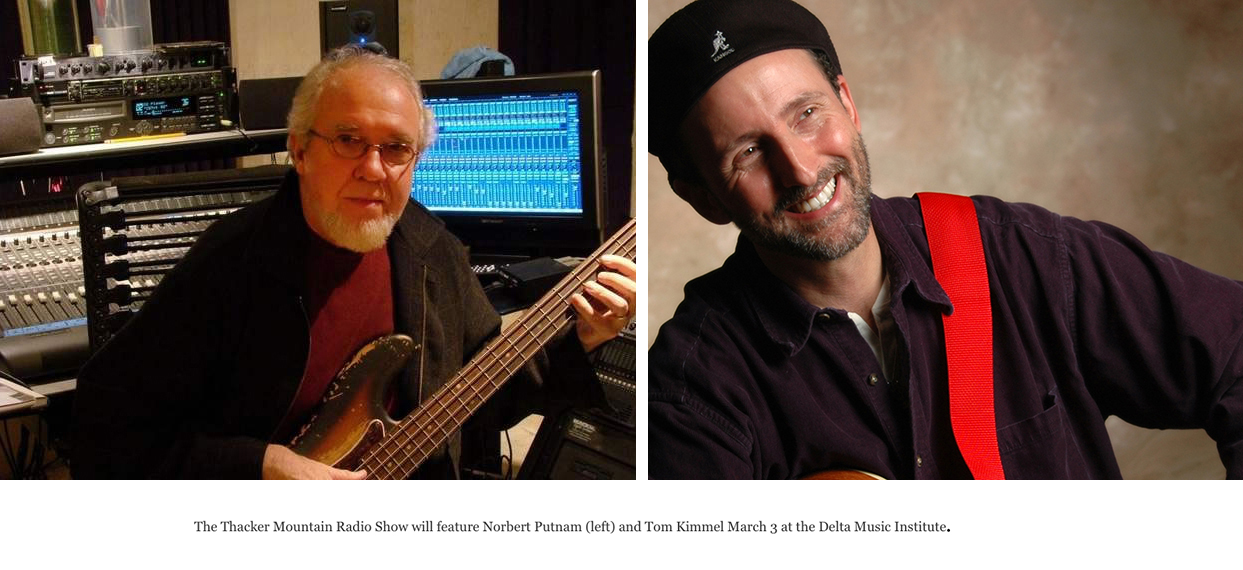 The Delta Music Institute entertainment industry program at Delta State University will host the award-winning Thacker Mountain Radio Show March 3 at 3 p.m. in Studio A on the campus of Delta State.
The event marks the tenth year for the Thacker in the Delta event, which serves as a fundraising event in support of DMI programming and the Duff Dorrough Memorial Scholarship fund.
This year's featured author will be legendary record producer and musician Norbert Putnam, who will be reading from his recent release, "Music Lessons Vol. 1: A Musical Memoir."
Putnam grew up near Florence, Alabama and was part of the Muscle Shoals musicians brought to Nashville to play for Elvis Presley in 1965. Putnam worked there as a bass player on recording sessions with Presley, Roy Orbison, Al Hirt, Henry Mancini, Dan Fogelberg, Linda Ronstadt, J.J. Cale, the Nitty Gritty Dirt Band, Michael Card, Ian & Sylvia and Bobby Goldsboro.
As a producer, Putnam was responsible for copious work on Nashville's non-country music output from the late 1960s to the early 1980s. His credits include major works that established the popularity of performers such as Jimmy Buffett, Joan Baez, Dan Fogelberg, John Hiatt, the Flying Burrito Brothers and the New Riders of the Purple Sage. Putnam was instrumental in the wave of modernization of many recording studios in Nashville, and laid the groundwork for the city's growth and widening its appeal to pop/rock artist and virtually all other styles of music. Putnam drew the unique plans for the recording studios at the DMI at Delta State, and he is still an active touring musician, record producer and author. He resides in Florence, Alabama with his wife Sheryl. His most recent book was published in early 2017.
Also featured at the event will be Tom Kimmel. Kimmel's compositions have been recorded by a host of major artists, including Linda Ronstadt, Johnny Cash, Joe Cocker, Art Garfunkel and Randy Travis. They've been featured in films from "Twins" to "Serendipity" and Runaway Bride, and in television shows from "Captain Kangaroo" and "Touched By An Angel" to "Dawson's Creek." He has released seven solo albums, published a book of poems and led songwriting workshops and classes around the country and in Europe. A New Folk winner at the Kerrville Folk Festival, Kimmel performs solo, as well as performing with his different trios, The Sherpas (with Tom Prasada-Rao and Michael Lille), The Waymores  (with Don Henry and Sally Barris), and The New Agrarians  (with Kate Campbell and Pierce Pettis).
In addition to the featured guests, DeltaRoX from the DMI and Tricia Walker will also perform. Thacker Mountain Radio is hosted by Jim Dees and features the show's talented house band, The Yalobushwhackers.
Thacker in the Delta is open to the public at no charge, but gifts and donations to the Friends of DMI fund are encouraged. For online giving, please visit www.deltastategiving.org and enter Delta Music Institute in the search field.
The Delta Music Institute is an independent center of study under the College of Arts and Sciences at Delta State University, offering a bachelors in entertainment industry studies. The focus of the DMI is to provide students with a broad and thorough education in the technological, creative and business areas of the music and entertainment industry. For more information, contact 662-846-4579 or visit http://dmi.deltastate.edu.