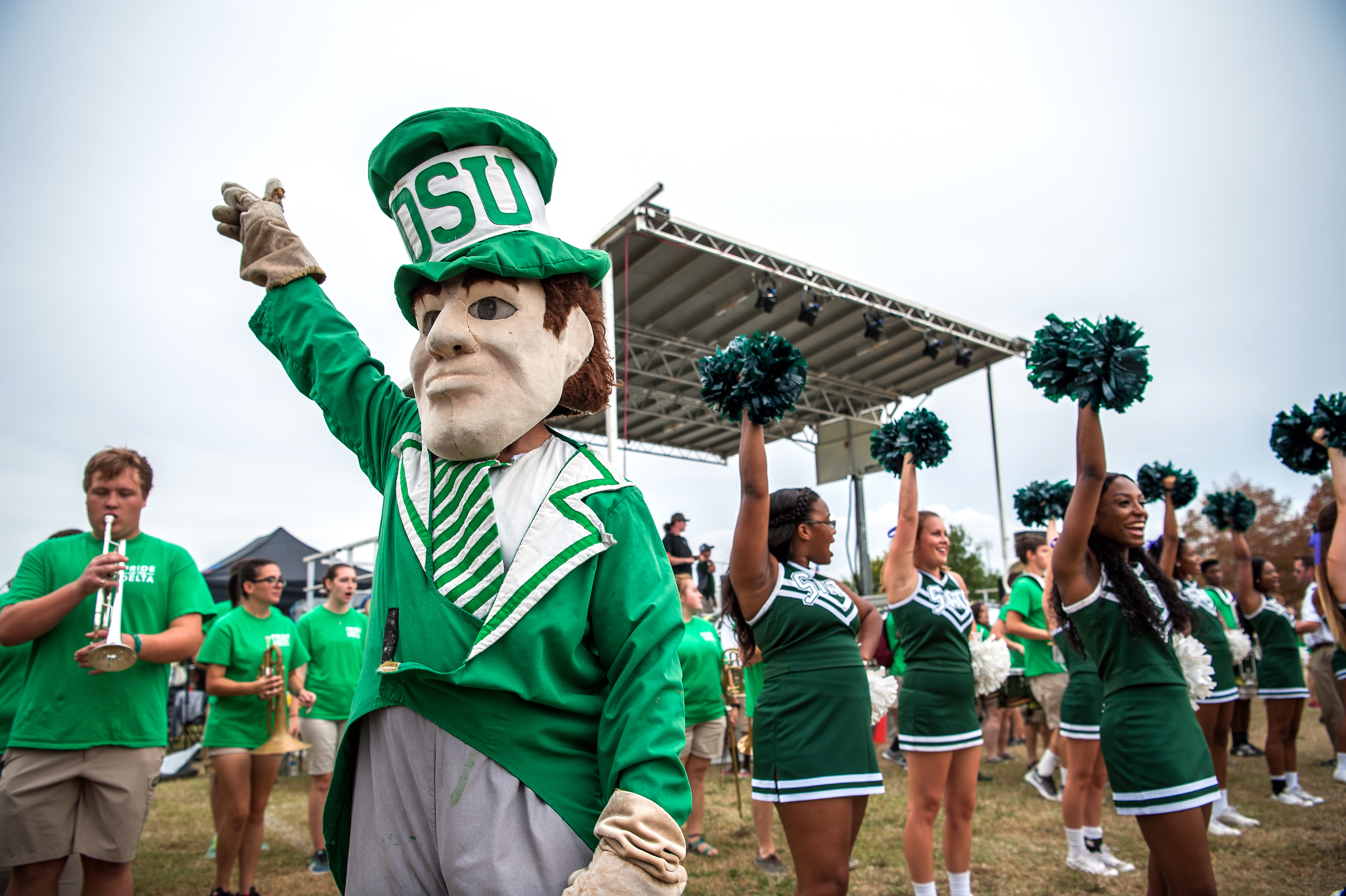 The Delta State University Alumni Association celebrated the 32nd annual Pig Pickin' this past weekend at Statesmen Park with a record-breaking number of guests.
Over 1,000 people came through the barbecue serving lines and enjoyed a plate of pulled pork or Polk's Meat Products sausage dog and a cold RC drink. The BBQ was prepared by the Ubon's BBQ of Yazoo City and a group of volunteers including Tom Janoush, Jamie van Vulpen, David Griffith, Milan Killebrew, Mike Ainsworth, Craig Verhage and many others. Volunteers lead by the Student Alumni Association, Kappa Alpha Order, Boy Scouts of Cleveland, and First Year Seminar also played a major role in preparing for the guests on Statesmen Park.
Over 400 prospective students and parents attended DSU Day which was an all-time high.
The 3rd Annual Corn Hole Tournament was held on Statesmen Park. Jae Medders and Johnny Cassibry claimed the title which was sponsored by the Alumni Association and DSU Intramurals.
Pig Pickin' guests were entertained by the Jason Miller Band, CE All-Stars, and the talented Delta Music Institute bands.
Other Saturday events included the annual Pig Pickin' Golf Classic to support the DSU Golf Team, biennial Baseball Reunion, and the Hog Run 5K sponsored by Kappa Sigma Fraternity.
The Alumni Association joined the Memphis Barbeque Network which is one of the leading sanctioning bodies of BBQ contests in the world. This year 38 cook teams competed for Grand Champion of Pig Pickin in the Championship and Patio Category, and there were 16 first-time cook teams this year.
Championship Category Grand Champion: Cotton Patch Cooking Team from Columbus, Mississippi
Patio Category Grand Champion: Rolling Bones from Rosedale, Mississippi
The event would not have been possible without the help of all the volunteers and event sponsors, including Polk's Meat Products, which has sponsored the event for over a decade. Sponsors were treated to a jambalaya dinner at the Sponsors' Social Friday night before Pig Pickin' at the Hugh Ellis Walker Alumni & Foundation House. Please visit www.dsupigpickin.com to view the 2017 Delta State Pig Pickin' sponsors.
To stay up to date on the Alumni Association's activities, download the Delta State Alumni app and follow these social media sites: Facebook (Statesmen Graduates), Twitter (@DSU_Alumni), LinkedIn (DSU alumni), Instagram (alumni) and You Tube (dsualumni1). Make plans for Homecoming (Nov. 11).