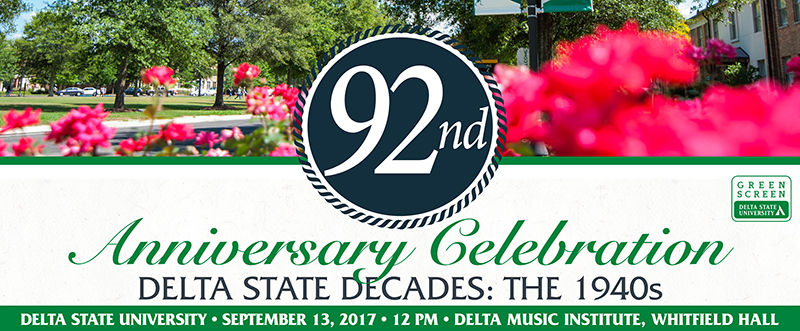 All campus members, friends and supporters of Delta State University are invited to a university birthday celebration Sept. 13, as the institution marks the 92nd anniversary of its opening.
The public is encouraged to visit campus for the celebration of 92 years of excellence.
Delta State University President William N. LaForge, joined by members of the Dedicated Statesmen Association, will start the ceremony at noon at Whitfield Hall, the current home of the Delta Music Institute.
The anniversary program will focus on the decade of the 1940s, which will include a brief introduction of Governor James Whitfield, the man for whom Whitfield Hall was named. The former Mississippi leader signed the bill establishing Delta State Teachers College in 1924.
The program will highlight the historic events that took place in and around Whitfield Hall, and how its renovation has given rise to the thriving entertainment industries studies program at the DMI.
The event will conclude with a light lunch for attendees.
Dr. James Robinson, president of the DSA committee, is excited to once again celebrate the university's founding.
"We will continue to celebrate each year with growing excitement as the 100th birthday of Delta State approaches," said Robinson. "A yearly celebration allows us to embrace the school's history and its bright future. Each year, the anniversary brings us closer as students, alumni, faculty, staff and friends."
Emily Jones, university archivist, has been working closely with the DSA to bring the event together.
"We celebrate Delta State's anniversary to pay tribute to those who have come before us, and all the great Statesmen and Lady Statesmen yet to come," said Jones. "As an archivist, it brings me great honor to help highlight our history. We look forward to shining light on the '40s and former Governor Whitfield."
The Delta State Wind Ensemble will join the program again this year, performing a selection of the green and white's most popular tunes.
Stay up to date on all university events and activities at http://www.deltastate.edu.