Delta State University's Department of Commercial Aviation recently had its new top-of-the-line flight simulator certified by the Federal Aviation Administration.
Made by Frasca International, the Level 6 Diamond DA42 FTD (flight training device) was certified by the FAA to be used in the private multi engine, commercial multi engine, and flight instructor flight training syllabi.
The simulator will feature Frasca's TruVision visual system, a 220 degree wrap-around visual system, an advanced cockpit weather and traffic interface, and Garmin G1000 advanced avionics paired with the KAP 140 autopilot.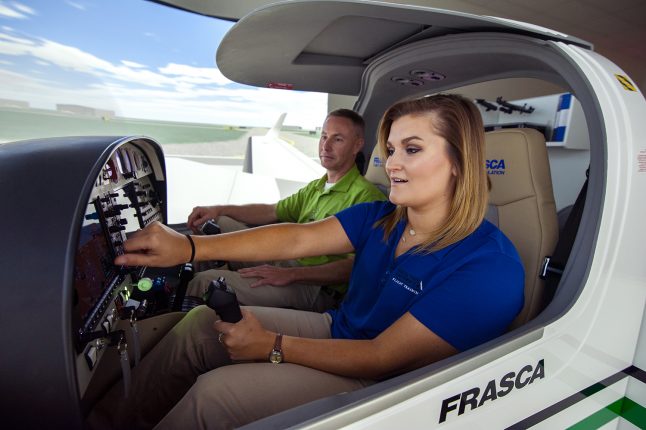 The new simulator is an addition to the university's three other Frasca TruFite FTDs for the Cessna 172 and Beechcraft Duchess that are currently in use. The model will simulate the Diamond DA42 aircraft, which is a complex multi-engine airplane used by students for in-air training.
"We are thrilled to have this showpiece ready for service," said Dr. Julie Speakes, chair of commercial aviation. "Our students will save money and enjoy the visuals. In fact, the visuals are so realistic I've seen students leaning into a turn."
Chip Cooper, director of flight operations, is also thrilled with the training opportunities the simulator will provide.
"This is a very nice piece of equipment to be able to have here in the Commercial Aviation Department," he said. "This FTD is as close to the real experience you can get without it actually being an aircraft. I believe we all can agree that in aviation it's sometimes best to first experience a maneuver or procedure on the ground and have the capability to pause the event."
Garrett Gee, staff flight instructor added, "The realism of the new FTD allows us to train our students on normal and emergency procedures like never before. It responds and reacts just like the real aircraft. It also allows us to teach procedures that we are not able to teach in the airplane, such as landing with a flat tire with amazing realistic responses."
Gee said the model has more advanced capabilities than the program's previous FTDs, but the instructor interface has not changed much, providing instructors a familiar computer interface to teach with.
The Department of Commercial Aviation offers a bachelor's of commercial aviation, as well as a master's of commercial aviation. The department provides courses in general aviation, aviation management and aviation logistics management. Students have access to a flight training fleet that includes over 15 single-engine aircrafts and three multi-engine training planes.
Delta State is the only institution in Mississippi currently offering these baccalaureate degree programs.
"Graduates from this aviation program serve as members of flight crews, air traffic control specialists, and executives with supervisory and managerial responsibilities at all levels — while boasting no out-of-state and competitive flight training costs," added Speakes.
Learn more about commercial aviation at Delta State by visiting http://www.deltastate.edu/college-of-business/commercial-aviation.