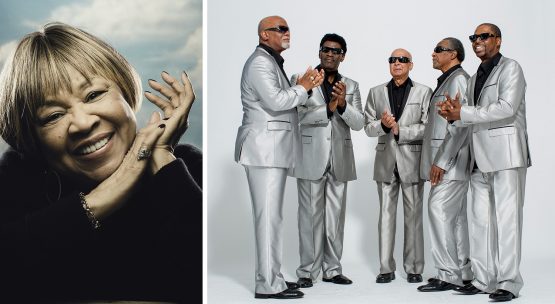 Two powerful acts will deliver a potent performance of fervent vocals and uplifting lyrics Oct. 20 at 7:30 p.m. at Delta State's Bologna Performing Arts Center. The BPAC proudly presents Mavis Staples and the Blind Boys of Alabama in an incredible night of music. The concert is sponsored by Cannon Motors of Mississippi.
Mavis Staples is a Rock and Roll Hall of Famer, a GRAMMY Lifetime Achievement Award winner, Kennedy Center Honoree and a National Heritage Fellowship Award recipient. Since her first recording at age 13 in 1954, Staples has learned from, worked with, and schooled countless legends, and has brought her own timeless talent to every performance.
Staples stardom began with the Delta-inflected gospel sound she helped create in the 1950s with her father, Pops, and her brother and sisters as The Staple Singers. She then became known for her freedom songs of the Civil Rights era, and then topped the radio charts during the Stax era with hits like "I'll Take You There" and "Respect Yourself." She served as muse to both Bob Dylan and Prince at the peak of their careers, and later formed 21st century collaborations with Van Morrison, Billy Preston, Zac Brown, Ry Cooder, Chuck D. and Willie Nelson. She then formed a GRAMMY-winning partnership with fellow Chicagoan Jeff Tweedy. Throughout it all, the one constant has been Mavis and her singular voice. Staples has embraced her evolution, absorbing new sounds and ideas, rising to meet the challenges of longevity and bringing her message of hope and positivity to new listeners, song after song, show after show.
Winner of five GRAMMYs, the Blind Boys of Alabama have the rare distinction of being recognized around the world as both living legends and modern-day innovators. They are not just gospel singers borrowing from old traditions; the group helped to define those traditions in the 20th century and almost single-handedly created a new gospel sound for the 21st.
Since the original members first sang together as kids at the Alabama Institute for the Negro Blind in the late 1930s (including Jimmy Carter, who leads the group today), the band has persevered through seven decades to become one of the most recognized and decorated roots music groups in the world. The Blind Boys' live shows are roof-raising musical events that appeal to audiences of all cultures, as evidenced by an international itinerary that has taken them to virtually every continent. The Blind Boys of Alabama have attained the highest levels of achievement in a career that spans over 75 years and shows no signs of diminishing.
Tickets start at $30 and are available at the Bologna Performing Arts Center Ticket Office, open Monday-Friday from 9:30 a.m. to 4:30 p.m., by phone at 662-846-4626, or online www.bolognapac.com.