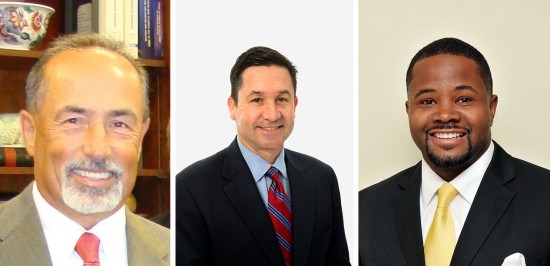 Induction into the Delta State University Alumni Hall of Fame is the highest honor bestowed upon an individual by the Delta State Alumni Association. Established in 2007, the honor is extended to alumni and friends who have achieved professional distinction and made significant community service contributions at the local, national, and/or international level, and who have thus brought honor and distinction to Delta State University.
As part of Homecoming activities planned for Nov. 14, the Delta State University Alumni Association will recognize this year's HOF inductees — Gary Gainspoletti '73, Antony Garcia '86, and Dr. Dwaun Warmack '99.
Gainspoletti graduated from Delta State University in 1973 after majoring in accounting. Following graduation, he began working at Ellis & Hirsberg, CPAs, in Clarksdale in the general practice of public accounting. From 1981-2002, he practiced and had an equity interest in the accounting firm of Barfield, Lindsey, Gainspoletti & Gladden, Ltd, where he served as managing partner. In June of 2002, Gary opened the accounting firm of Gainspoletti and Associates, CPA, LLC. This firm operates primarily in the area of income and estate planning and taxation.
While practicing in each of the above firms, he has been in a supervisory capacity in several large audit engagements. In 1986, Gainspoletti became actively involved in the quality control for accounting firms and served as a peer reviewer for the Private Companies Practice Section of the American Institute of CPAs. He has also served as an instructor for continuing education programs for CPAs that were sponsored by Delta State University.
In 1996, Gainspoletti obtained a general securities license 6, 63 and 26. Since then he has focused his practice in the areas of income and estate planning, personal financial planning and investment management. In conjunction opening his own firm in 2002, he acquired an insurance license and securities principal license Series 7 and 24 and is a Certified Financial Planner. He is a registered representative with LPL Financial in San Diego, Calif. His office in Cleveland serves as a branch office for LPL.
He is a member of the AICPA, Mississippi Society of Certified Public Accountants and Financial Planning Association. He has served as a member on the MSCPA Board of Directors for two years and several additional committee assignments. For four years he served as an officer, including president of the Delta Chapter of CPAs.
Additionally, Gainspoletti has been very active in the community, primarily with his involvement in the Cleveland-Bolivar County Chamber of Commerce. Since 1981, he has served in several officer positions with the chamber, including a one-year term as president. He has been equally active in the Industrial Development Foundation, serving as an officer and director for five years. For the past 30 years he has been active with industrial development and retention for the IDF. In 1990, while chairman of IDF, he was awarded the Governor's Award for Volunteer Laureate. He also has served on the Advisory Board for the Cleveland School District.
In September 1998, Gainspoletti was presented with the S.E. Kossman Chamber Award. This is the most prestigious award given each year by the Cleveland-Bolivar County Chamber of Commerce. It is presented to one person in Bolivar County who has exhibited continuous outstanding community service. Additionally, in February of 2001, he was chosen to be King of the Junior Auxiliary Charity Ball. This honor is presented to someone who has devoted time and effort to projects designed to assist and develop youth activities.
He is a past-president of the Bolivar County DSU Alumni Association, past-president of the DSU Booster Club and DSU Green and White Fund, past member of the DSU Accounting Advisory Board, past member on the DSU Foundation Board and past president of the Knights of Columbus in both Clarksdale and Cleveland.
In 2005, Gainspoletti was elected as the at-large alderman for the city of Cleveland and presently serves on the city council. He is chairman of the Finance Committee and serves on the Housing and Land Use Committee. He also served six years in the Army National Guard from 1970-1976.
Most recently, he has been actively involved as an ex-officio member and one of the foundingfathers of the Cleveland Music Foundation in the development of the GRAMMY Museum Mississippi.
He and his family are members of Our Lady of Victories Catholic Church in Cleveland. He has served on the Pastoral Council as president and as a board member. He was also a member of the Finance Council for several terms. For 11 years he and his wife, Jamey, were coordinators for the Catholic Youth Organization.
Gary and Jamey have two children, Presley and Russell. Presley is an occupational therapist and is married to Andy Lee and they have three girls. Russell is also a CPA, CFP and is married to Rivers Gist of Clarksdale. They have two boys and another child on the way in April of 2015. Russell has investment licenses 6 and 63 and a life insurance license. He is a member of the firm of Gainspoletti Financial Services, LLC.
***
Tony Garcia graduated from Delta State in 1986 after majoring in finance. He received his MBA from the Kellogg School of Management at Northwestern University.
Garcia was appointed president and CEO of Foresters insurance provider in May of 2014. He has more than 26 years of experience in the North American life and annuity industry, most recently as president of Western and Southern Agency Group, part of a Cincinnati-based Fortune 500 diversified family of financial serves companies.
Previously, he served as president and Chief Executive Officer at TIAA-CREF Life Insurance Company. His financial services industry experience also includes executive positions at Allstate, HSBC and the HealthMarkets life and health subsidiaries.
Throughout his career, Garcia has driven profitable growth and implemented transformational change in each of his roles. He brings exceptional visionary and leadership expertise to Foresters, combined with a commitment to relationship-building and communication skills.
He serves on the Board of Directors at the Cary M. Maguire Center for Ethics in Financial Services at The American College, which aims to raise the level of ethical behavior in the financial services industry. He is also on The American College's Board of Trustees and is a former member of the Board of Directors at the American Council of Life Insurers. Garcia served on the Cincinnati Chamber of Commerce's Diverse by Design Committee, which aims to attract and retain diverse talent to the region.
He has also been active in the United Way and was a Junior Achievement volunteer teacher. Garcia will also be awarded the Outstanding Alumnus of the Year award by the Delta State University Alumni Association at Homecoming.
***
Dr. Dwaun J. Warmack received a bachelor's degree in education in 1999 and master's degree in sociology in 2000 from Delta State. Originally from Detroit, Mich., he is a graduate of Finney High School. He attended Schoolcraft College in Livonia, Mich. before coming to Delta State. He received his doctorate in educational leadership with a specialization in higher education from Union University in Jackson, Tenn.
A student-centered, customer service oriented and transformational leader, Warmack was appointed president of Harris-Stowe State University in July of 2014. He brings more than 16 years of experience in higher education to the position. Prior to joining Harris-Stowe, Warmack became the vice president for Student Affairs in July of 2010 at Bethune-Cookman University. He accepted this position at the age of 33 — making him the youngest vice president in the school's history. In 2013, he was promoted to senior vice president for Administration and Student Services.
Prior to his tenure at Bethune-Cookman, he was the associate dean of students at Rhodes College in Memphis, where he had oversight of student affairs areas including judicial affairs, student activities, Greek life, new student and parent orientation and multicultural affairs. While at Rhodes, he also served on the institution's Southern Association of Colleges and Schools Reaffirmation Committee. Warmack has also held positions at Western Carolina University in Cullowhee, N.C., and Delta State.
Warmack was the 2008 recipient of the Dr. Kent Wyatt Young Alumnus of the Year Award at Delta State. In 2012, he participated in Hampton University's On the Road to the Presidency: Executive Leadership Summit, and in 2013, the American Association of State Colleges and Universities Millennium Leadership Initiative, Preparing for the Presidency Program.
He is a change agent who has a commitment to the development of the whole student, including learning inside and outside the classroom.
The Hall of Fame inductees will be honored during Homecoming Nov. 14 at the Alumni Awards Gala at 7 p.m. at the Bologna Performing Arts Center. Tickets for the event are $20 and can be purchased at the Hugh Ellis Walker Alumni House or online at www.deltastategiving.org/alumniassociation/homecoming2014.
For more information, contact the Alumni Association at (662) 846-4660.  To stay up to date on the Alumni Association's activities, follow these social media sites: Facebook (Statesmen Graduates), Twitter (@DSU_Alumni), Tumblr (http://www.dsualumni.tumblr.com), LinkedIn (DSU alumni), Instagram (dsualumni) and You Tube (dsualumni1).