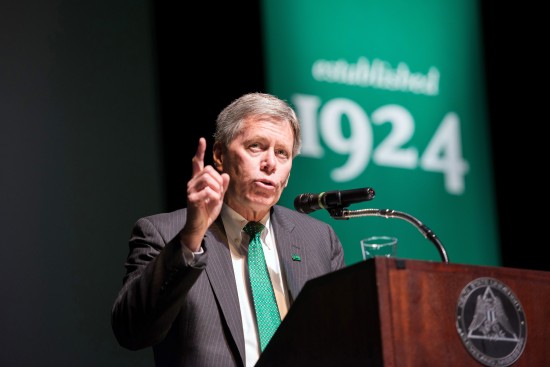 Delta State University President William N. LaForge delivered his second State of the University address during opening convocation today at the Bologna Performing Arts Center on campus.
The address was titled "Building Quality and Excellence: A Work in Progress" and began with a welcome to faculty and staff at the start of Delta State's 89th academic year.
LaForge characterized the state of the university as "very good and solid."
"After more than a year in office, I am now able to share perspectives I was unable to convey to you a year ago," he said. "It has been an incredible year of learning and 'baptism by fire' for me, as I have dealt with many issues near and dear to our very existence.
"We have planted so many seeds for the future that if only half of them come up, we will be in good shape — seeds of new and creative programming, ramped-up recruiting, smart budgeting, and renewed emphasis on the success of our students and academic programs."
The president organized the bulk of his speech into five main categories: enrollment, budget, compensation, capital improvements, and a vision for growth and excellence.
Boosting enrollment has been a focus for the institution for years, so LaForge was thrilled to announce indications of a hopeful trend.
"I am pleased to report to you that we expect to see an increase in enrollment this fall for the first time in eight years," he said. "We won't know the true numbers for a couple of weeks, but we are projecting a four-to-five percent increase, meaning approximately 150 students over last fall's enrollment."
In discussing the budget situation at Delta State, LaForge said the financial environment remains the most serious challenge. Contributing to this status are: a weak but improving cash position; excessive student accounts receivables; extensive deferred maintenance of campus buildings; unproductive, but greatly improving, spending patterns across campus; and less-than-adequate revenue primarily caused by years of enrollment erosion.
"We are doing everything possible to address each of these areas of concern, many of which have manifested themselves clearly only in the last several months, but have been endemic in our culture for years," said LaForge. "Bringing our financial picture back to a healthy condition is a top priority along with enrollment."
The budget discussion segued to the president's comments on compensation goals, indicating the sooner Delta State comes to grips with, and solves, its financial woes, the better off the university and its faculty and staff will be.
"Nothing fuels my sense of urgency about stabilizing our budget and enrollment more than the need to give pay raises," he said. "We have analyzed the compensation situation on campus for faculty and staff alike, and we know and understand the need for salary increases."
The keys to making salary increases possible, LaForge said, rely heavily on the two previously mentioned challenges — increasing enrollment and stabilizing the budget. The desired plan is to begin the process of salary increases no later than the beginning of the next fiscal year, July 1, 2015.
Capital improvements was the next topic of discussion, as LaForge mentioned Delta State will show a major push forward in campus infrastructure improvements funded by $14.5 million state-provided bond dollars.
The money will be dedicated to the completion of fire-suppression improvements in residence halls; the long overdue completion of the Caylor-White-Walters science and math complex; repaving of streets; and renovation of the Young-Mauldin Dining Hall and Zeigel music building.
Lastly, LaForge provided visions for excellence and growth, citing a number of programs and activities, as well as the hard work and dedication of his leadership team.
"To a person, I appreciate what they do every day because they are making things happen on campus as we pursue our shared mission and vision," he said.
Like the university community as a whole, LaForge remains hopeful of more positive growth at Delta State.
"The vision for our future also includes pursuing every opportunity and avenue toward excellence, expecting the best from each other and holding each other accountable, and working diligently to make this university one of high standards, satisfied students, successful graduates, engaged faculty and staff, and proud alumni," said LaForge. "That vision includes Delta State's rightful place as a bastion of education and a beacon of hope in the Mississippi Delta and a shining example of excellence for the state and nation."
Visit www.deltastate.edu to stay updated on university news and event coverage. Track the president's never-ending efforts on his blog at http://president.deltastate.edu/ and Twitter via @presidentDSU.