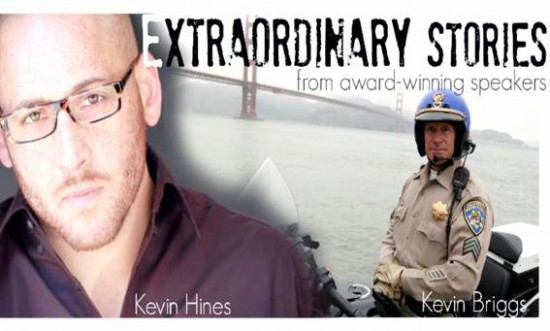 Through the hard work of Delta State University's staff in Student Health Services, the university is honored to host two nationally recognized speakers of suicide awareness.
"Life After the Storm" will take place at the Bologna Performing Arts Center from 11 a.m.-12:30 p.m. on Sept. 8, featuring Kevin Hines and Kevin Briggs. The presentation is part of continuing efforts at Delta State to make an impact on suicide prevention.
The duo travels to speak publicly about their experiences during Hines' attempted suicide at the age of 19. Miraculously, Hines survived his jump off the Golden Gate Bridge, and has since dedicated his life to suicide prevention and mental health awareness.
Hines is the best-selling author of "Cracked, Not Broken," where he explains his interactions with Sgt. Kevin Briggs, the patrol officer who handled Hines' suicide attempt 14 years ago.
Briggs is called the "Guardian of the Golden Gate Bridge" and has saved hundreds of lives, spending up to seven hours talking on the scene to bring those considering suicide back over the rail.
The two motivate and inspire audiences ranging from college students and faculty, to law enforcement and military. Both are dedicated to stopping the suicide epidemic.
Hines has become an award-winning international speaker, author, and mental health advocate. In 2012, he was awarded a Lifetime Achievement Award for his outstanding work. He has also been recognized by the Substance Abuse and Mental Health Services Administration as a Voice Awards Fellow, an Achievement Winner by Veterans Affairs, and he has received a Three Star Marine Generals Medal Award in addition to his numerous accolades.
Briggs remains active in efforts to promote crisis management, leadership skills and suicide intervention and prevention worldwide. He provides public speaking and teaching at conferences and law enforcement departments across the country, including the FBI, and he consults and advises major companies and corporations.  He is the 2013 recipient of the Outstanding Officer Award, Public Service Award presented by the American Foundation for Suicide Prevention, California State Senate Resolution for Public Service, and Jefferson Award for Public Service.
Dr. James Houston, director of counseling and Student Health Services at Delta State, said it is imperative to continue educating others about suicide awareness.
"Students and faculty will take away from this event that suicide is preventable," said Houston. "Stigma, ignorance and uncertainty might prevent us from giving the necessary support and understanding to suicidal individuals. These presenters have direct experience in dealing with suicide at America's suicide central — the Golden Gate Bridge."
Houston cited numbers from the National College Health Assessment, which found that 94 percent of college and university students surveyed felt overwhelmed. Another 44 percent confessed they had felt so depressed it was difficult to function. And 15.8 percent of students reported they had seriously considered attempting suicide during the 12 months preceding the survey.
"That equates to one-in-seven college students," said Houston. "There are estimates that there are 100-200 attempts for every completed suicide. Suicide is permanent. The numbers are compelling and suicide is preventable."
"Life After the Storm" hopes to make an impact on these numbers. The event is free and open for registration. Reserved seating will be available for student groups. The official Delta State card readers will be available for instructors who want to provide extra incentives for students in attendance.
For event information or to RSVP, contact 662-588-4047 or ktaylor@deltastate.edu.
Funding for this project is provided by the Substance Abuse Mental Health Services Administration through a Garrett Lee Smith Suicide Prevention grant. Learn more about the Suicide Prevention program at Delta State at http://www.deltastate.edu/student-affairs/suicide-prevention/.