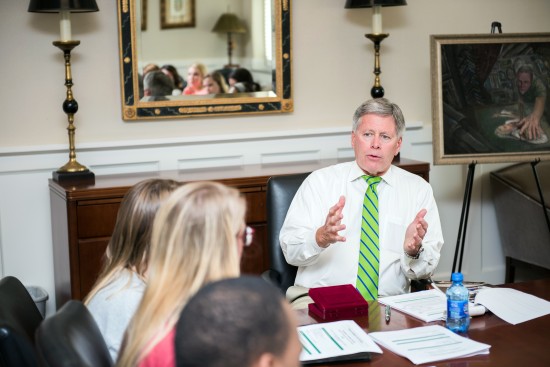 Delta State University President William N. LaForge is extending his leadership role by teaching just that — a course titled "Leadership: A Personal Journey," available through the university's College of Business.
More than 20 eager students arrived at the first class Tuesday night, held right in the Presidential Conference Room of Kent Wyatt Hall. The experience promises to be one of the most unique classes available to Delta State students.
"Taking classes on leadership is really important, and I'm very interested to see what I gain from this," said student Allison Dale. "When I saw that President LaForge was teaching, it immediately caught my attention."
Fellow student Drake Mobley also hopes to gain valuable knowledge from the institution's captain.
"I admire that Dr. LaForge is an open leader and so visible on campus," said Mobley. "He is always open to hearing what the students have to say. He's been a great leader at Delta State already, and I hope to learn about leadership for my own career."
LaForge, now in his second academic calendar as president, is perhaps as eager as the students to be leading this endeavor.
"It's a treat for me to be back in the classroom — I've missed that," said LaForge. "This is where the action is and where rubber meets the road. In this class we are peeling back the layers on what leadership is and making it a course of discovery."
The main goal of the course is to provide an overview of leadership as a human enterprise, including a review of leadership concepts, styles, skills and principles. Ultimately, LaForge wants to engage students in discussion of leadership development to help guide them in their professional endeavors.
While LaForge's background in Washington politics is well documented, he returned to lead Delta State with a resume stacked in higher education experience.
A frequent speaker on topics of government, public policy and the operations of Congress, LaForge held an academic appointment as an adjunct professor at George Washington University for 30 years. Additionally, he taught at Georgetown and George Mason University. His courses have focused on the fields of commercial law, public policy, lobbying and business government relations.
He has also been a visiting professor of law in Russia, Poland and Bulgaria.
LaForge was awarded a Fulbright Specialist teaching fellowship at Perm State University in Russia, where he became a member of Perm's Editorial Advisory Board of the Journal of Law Sciences. The relationship with Perm State continues to grow, as LaForge has made continued efforts to boost Delta State's international partnerships.
Thrilled to be back in the classroom, LaForge said the students hold special meaning to him since this is his first teaching experience as Delta State's president.
"On a professional and personal basis, this is an opportunity for me to interact with some of the best students on campus," he said. "I want to hear their perspectives and see the enthusiasm that they have as they continue their personal journey of leadership.
"I hope as a result of this course, the students will have an opportunity to explore leadership as a concept and realize the need to be a lifelong student of leadership."
Follow President LaForge's endless efforts at Delta State on his personal blog at http://president.deltastate.edu/ or his Twitter account @presidentDSU.