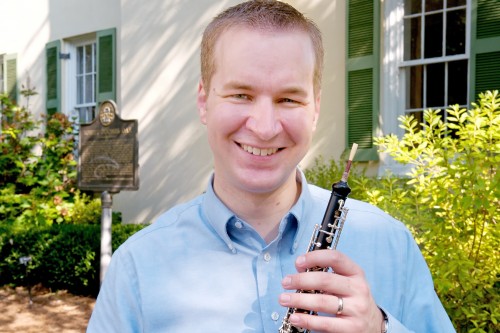 The Delta State University Department of Music presents Dr. Bret Pimentel, assistant professor of woodwinds, in a faculty recital Aug. 28 at 7:30 p.m. in the Recital Hall of the Bologna Performing Arts Center.
Pimentel will perform unaccompanied works on oboe, clarinet, bassoon, saxophone and flute. Included in the performance will be Astor Piazzolla's "Tango Etudes," Benjamin Britten's "Six Metamorphoses after Ovid" and Victor Morosco's "Blue Caprice."
In 2009, Pimentel joined the music faculty of Delta State, where he teaches woodwind instruments. He is at home with the classical solo repertoire of all the woodwind instruments, as well as chamber and symphonic music, jazz, rock and pop.
In addition to the major modern woodwinds, he is skilled at a number of world, historical and electronic woodwinds. Pimentel's varied career has included performances with Dave Brubeck, the Mormon Tabernacle Choir, the King's Singers, the O'Jays and more. For more information visit his website at http://bretpimentel.com.
The recital is free and open to the public. For more information, contact the Department of Music at 662-846-4615.