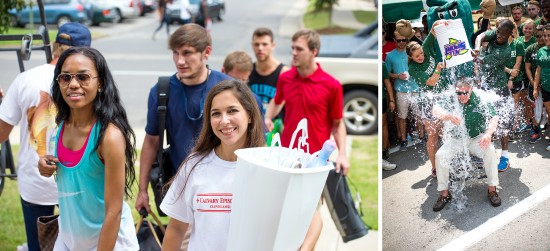 Delta State's annual Move-in Day was a big success Sunday with 1,100 students moving into campus residence halls in anticipation of the semester kicking off today.
Family, friends, students, faculty, staff, alumni, and community and church groups came together to help move all the living essentials into the dormitory rooms.
"Words alone cannot express how thankful I am to everyone who helped make the day successful," said Jeanna Wilkes, Student Success advisor. "We have already received a lot of positive feedback from parents and students excited to be a part of the Delta State University community. The Office of Student Affairs and the Student Success Center could not have done this without you."
A number of campus offices were open for service and support, including Admissions, Barnes and Noble Bookstore, Financial Aid, Career Services, Housing and Residence Life, Registrars' Office, Student Business Services and University Police.
Another highlight of the day was President William N. LaForge taking part in the ALS Ice Bucket Challenge to help spread awareness on ALS disease (amyotrophic lateral sclerosis). LaForge was challenged by Statesmen football coach Todd Cooley, and the president bravely accepted.
View the LaForge's dunking here: http://president.deltastate.edu/wordpress/?p=3602
View Cooley's challenge here: https://www.youtube.com/watch?v=VSEML20psdI&feature=youtu.be&app=desktop
Thanks to the Ice Bucket Challenge, as of today, The ALS Association has received $15.6 million in donations compared to $1.8 million last year. These donations have come from existing donors and 307,598 new donors to the association.
After the challenge, students continued to settle into the dorms. April Mondy, hall director for Foundation Hall, said the process went efficiently.
"The housing staff prepared extensively for Move-in Day," said Mondy. "The hard work paid off as the day went very smoothly."
Contributing to the efforts were 19 local churches, civic groups and student organizations. Around 230 student athletes joined greeters and movers, along with 68 faculty, staff, administrators and friends.
Stay updated with Delta State news at http://www.deltastate.edu.