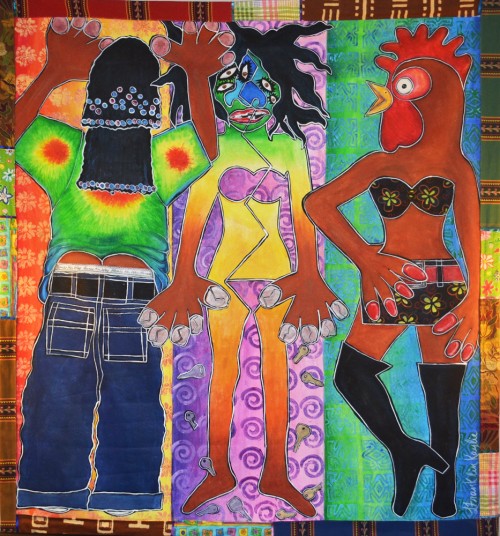 The Wright Art Center Gallery at Delta State University opens its new season Aug. 21 at 5 p.m. with a public reception for the exhibition of Lurlynn Franklin's work "Colored Cartoons in Undeniable Blackness." A reading of the artist's poetry will take place at 6 p.m.
Franklin is a Memphis artist, poet, playwright and educator whose work combines visual images, poetry and performance to address current issues. The exhibit will present her poetry alongside her paintings.
"Colored Cartoons in Undeniable Blackness is a collection of story quilts and poetry which are distinctly African-American in content, addressing the thin line drawn between stereotypes and truths," said Franklin.
"Both the writings and the visuals lend themselves towards social commentary, deliberately falling short in being hardcore political," she added. "The work lightly and deceptively skims the surface of personal politics, focusing on the mainstreams of modern 'colored' life with humor and sarcasm."
Franklin, who refers to her paintings as quilts, is known for her colorful work, which draws on the tradition of African-American story quilts and the collages of noted African-American artists such as Romare Bearden.
In keeping with her inspiration, she incorporates nontraditional materials such as fabric, wallpaper and clothing into her paintings. At the same time, her collage technique underlines the message of the images.
"The quilts, like any funny story told in retrospect at a black family reunion, are exaggerations coloring life brightly with candy hues, juxtaposed and warmed with sepias and browns, the eclectic materials and pieces of the tale, pulled together in the end, framing the whole of the story," she said.
Franklin considers her work open to reinterpretation and thinks of it as a work in progress. Her book, "Fabled Truths," published by Xlibris in late 2013, combines a series of critical self-portraits with poetic essays.
For Franklin, writing and painting are inextricably linked. She begins each painting by choosing a title and the work evolves from there.
"The creative writings are not narratives of the quilts, but are more like side glances at the colored cartoons they portray, sharpened and lyrical in their language," said Franklin.
She holds a master's in art education and Master of Fine Art in painting from Memphis College of Art. Her work has been shown nationally, most recently at the Caritas Village Community Collective and Dixon Gallery and Gardens, both in Memphis. She has received numerous awards and recently was recognized by the Tennessee Arts Commission for her work.
Colored Cartoons in Undeniable Blackness is on exhibit until Sept. 26. The gallery is open Monday-Thursday from 8 a.m.-8:30 p.m., and on Friday from 8 a.m.-4:30 p.m. For more information, contact the Delta State Art Department at 662-846-4720.