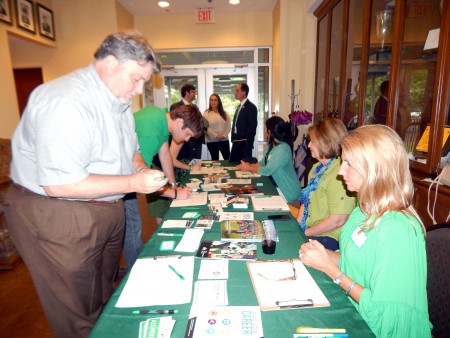 The Delta State University Alumni Association traveled to Jackson July 31 for the annual Greater Jackson Area Alumni Event, held at the Jackson Yacht Club. With over 100 alumni and friends in attendance, the event was another success for the chapter.
Head football coach Todd Cooley and head baseball coach Mike Kinnison spoke to the group, and Alumni Director Jeffrey Farris provided campus updates. President William N. LaForge, who was in California for a conference, did a special call-in to provide a welcome to the group.
Other faculty and staff members in attendance included: Assistant Alumni Director Jordan Thomas; Executive Director of the Alumni-Foundation Keith Fulcher; Director of Donor Relations Ann Giger; Athletic Director Ronnie Mayers; Director of Recruiting Chris Gaines; Admissions Recruiters Robin Rouse and Tyler Dalton; Director of Career Services Davlon Miller; Director of the Child Development Center Stephanie Farri; head women's basketball coach Craig Rodan; Assistant Athletic Directors Gerald Jordan and Matt Jones; and Assistant Director of Athletic Communications Fred Sington.
A silent auction was also held, with all proceeds going to the Greater Jackson Area Alumni Scholarship. This year's recipients of the scholarship were: Jamie Smith of Madison Central High School; Candace Harrell of Pisgah High School; and Matthew Evans of Terry High School.
Entertainment for the night was provided by the Double Shotz Band.
Sponsors for the affair included: Celia Aguzzi Manley; Polles Properties; CLH Consulting; Capital Resources LLC; Jason Dees; BKD CPAs & Advisors; Magnolia Health; BankPlus; and Reliance Transportation.
For more information, contact the Alumni Association at 662-846-4660. To stay up to date on the Alumni Association's activities, follow these social media sites: Facebook (Statesmen Graduates), Twitter (@DSU_Alumni), Tumblr (http://www.dsualumni.tumblr.com), LinkedIn (DSU alumni), Instagram (dsualumni) and You Tube (dsualumni1).
Save the dates for Pig Pickin' (September 27) and Homecoming (November 15).