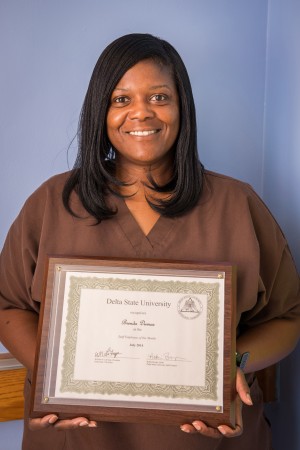 The Delta State University Staff Council recently honored Brenda Dumas as the July 2014 Employee of the Month. Dumas, teacher of four-year-olds at Delta State's Hamilton-White Child Development Center, has taught at the center for 19 years.
Dumas is a Delta State graduate of 1995. She majored in child development and has worked with four-year-olds her entire career at Hamilton-White. Originally from Sallis, Miss., she now resides in Shelby with her husband.
She enjoys travel, old television shows, hosting family reunions and hanging out with her husband and two sisters. Dumas is a member of the New Bethel African Methodist Episcopal Church in Shelby, where is is president of the Women's Missionary Society and Young Peoples Department.
"I love working with four-year-olds," said Dumas. "The biggest highlight is when they come back to visit and I can see how they're doing."
Employee of the Month distinction is given to a staff member who has provided service at Delta State that is considered over and beyond those duties outlined in his or her job description. Nominations are submitted by colleagues on campus.
Each winner receives a plaque, monetary award, WalMart gift card from the Student Government Association, an engraved insulated coffee mug, a free parking decal courtesy of the Campus Police Department, a box of treats from The Sweetery, a parking spot of their choice, two Okra gift cards (one from Athletics and one from a private donor), marquee announcement and website recognition.
 
For an archived list of previous Employee of the Month winners, visit http://www.deltastate.edu/about-dsu/administration/staff-council/staff-council-employee-of-the-month/employee-of-the-month-archives/
 
Delta State's Staff Council serves as a liaison between the administration and the staff to provide a formal process for staff to discuss issues involving university policies and procedures and to forward ideas, recommendations and opinions to the president.