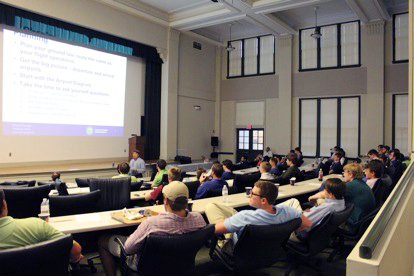 The Delta State University Department of Commercial Aviation held its Aviation Safety Meeting Aug. 21. The event, held each semester, provided both Aviation Management and Flight Operations majors the opportunity to interact with each other, faculty and staff.
Students were also introduced to leading members of the aviation professional fraternity Alpha Eta Rho (AHP), Flight Team and Civil Air Patrol. AHP provided attendees with a pizza luncheon.
A major focus of the meeting was a Federal Aviation Administration Safety Team Seminar (FAAST), which was open to both the students and the surrounding aviation community.
The seminar's topic was "Runway Incursions, Ethics, and Creating a Positive Safety Culture with Aircraft Maintenance." Former Delta State staff member Trey McClure spoke about the importance of situational awareness to prevent runway incursions. McClure is now an FAA representative with the Jackson office.
Delta State's Brett Oleis also spoke about runway incursions and the best methods for avoiding them. In addition, Oleis spoke about ethics required by members of the aviation community.
Finally, the presentation was handed to Mike Wilson, another FAA representative. Wilson shared a story of an aircraft accident and repair that was mishandled, and inevitably led to another accident.
Students responded well to the meeting and seemed excited to begin the semester in both their flying and classroom courses. Seminar participants also received credit for the FAA's WINGS program, which was designed to address the primary accident causal factors that continue to plague the general aviation community.
Dr. Julie Speakes, chair of the Department of Commercial Aviation, was thrilled to host another successful meeting.
"It was nice to combine the Delta State Aviation Safety Meeting with the Federal FAAST Seminar," said Speakes. "This allows students to learn the importance of safety at the beginning of the semester."
For more information regarding the WINGS – Pilot Proficiency Program, visit http://faasafety.gov/WINGS/pub/learn_more.aspx/.
The Delta State University Flight Operations degree provides stu­dents with the knowledge and skills to pursue a professional pilot career. Through a combination of both classroom and flight training, students will acquire the fol­lowing certificates and ratings: Private Pilot In­strument Multi-engine, Commercial, Certified Flight Instructor and Certified Instrument Flight Instructor. Training culminates in a Bachelor of Commercial Aviation degree within four years.
Similarly, the Aviation Management degree prepares students for supervisory and managerial responsi­bilities at all levels in the aviation field — including the airlines, air traffic control and military avia­tion.
This semester, the department is offering a new Aviation Management Logistics track. This program is designed to prepare aviation management students in complex operations of transportation and distribution of goods.
The Master of Commercial Aviation program provides students with a focused understanding of aviation concepts and operations. This 30-hour program is oriented towards aviation management and aviation education. It is taught completely online.
For more information, visit http://www.deltastate.edu/college-of-business/commercial-aviation/, or contact the department at 662-846-4205 or cavinfo@deltastate.edu.