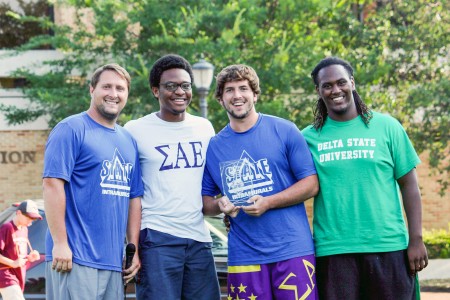 The Delta State University Alumni Association recently sponsored a Welcome Back Cookout with the university's intramural program. Free pizza and Nehi products were provided to attendees.
Kirk Mansell, director of intramurals, presented trophies to last year's intramural champions — Delta Delta Delta sorority and Sigma Alpha Epsilon fraternity.
Jeffrey Farris, director of Alumni Affairs, announced the recently established partnership between the association and intramurals, which is the development of the National Alumni Association Intramural Sports Champions Trophy. The trophy will be displayed on campus and will feature all previous intramural sports champions on record.
"We look forward to the partnership between the Alumni Association and the intramurals program," said Mansell. "As an alumnus of Delta State, I'm excited about the establishment of this trophy. I hope when these students are alumni they will reminisce on their time with Delta State intramurals."
According to Farris, the initiative is part of the "Student Engagement" aspect of the Association's strategic plan. In addition to the partnership with intramurals, the association also sends out the alumni magazine and the monthly e-newsletter to the student body. It also purchases a Delta State car tag advertisement in the back of the Delta Statement.
"These are ways to educate the students about the Alumni Association, so that when they graduate they will be more knowledgeable about the association," said Farris.
Other Delta State staff members in attendance at the event were: Keith Fulcher, executive director of the Alumni-Foundation; Davlon Miller, director of Career Services; and intramurals staff.