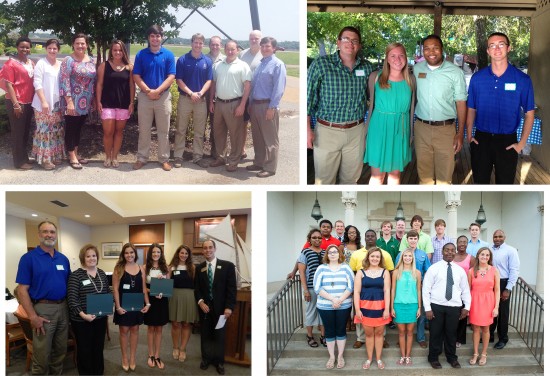 The Delta State University Alumni Association is committed to providing scholarships to deserving Delta State University students. This summer, the association awarded various scholarships to incoming freshmen, including Alumni Chapter Scholarships and the Hugh Ellis Walker Alumni Scholarship.
The Hugh Ellis Walker Alumni Scholarship is a $500 scholarship awarded to incoming freshmen whose parents are alumni. This year's recipients are: Madison Atkinson, James Beavers, Caroline Bickley, Travis Cooper, Brittany Earls, Andrew Farmer, Meri Fleming, Seth Fountain, William Goff, Adam Green, Emily Grossi, Jonathan Haynes, Christopher Holly, Katherine Jackson, Regilyn Keys, Hannah Kistemaker, Tyler Kitchings, Callie Masterson, Brandi Matthews, William McCall, Sheldon Moore, Dillon Norwood, Gregory Peacock, Jordan Pullen, Lauren Richards, Grace Rutledge, Walter Shepherd, Grayson Sims, Sarah Stevens, Larry Tyler, Tyler Vaughn, Thomas Whatley and Lauren McCoy.
Several alumni chapters raise money through sponsorships, donations and silent auctions towards a scholarship for Delta State students in their areas. The Liza Vaughn Memorial Bolivar County Scholarship, named after the former assistant alumni director, was awarded to: Tyler Vaughn, Eurekia Beasley, Travis Cooper, Brittany Earls, Jonathan Haynes, Katherine Jackson, Brandi Matthew, Haley McDonald, David Mullen, Gregory Peacock, Grace Rutledge, Kenneth Steadman, Terry Winston and Dillon Norwood.
The Gulf Coast Alumni Chapter Scholarship was awarded to Dustin McKittrick. The Greater Jackson Area Alumni Scholarship recipients are: Matthew Evans, Candace Harrell and Jamie Smith. The Desoto County Chapter Scholarship was awarded to Tanner Lloyd and Brittany McClendon.
For more information on Alumni scholarships, contact the Alumni Association at 662-846-4660. To stay up to date on the Alumni Association's activities, follow these social media sites: Facebook (Statesmen Graduates), Twitter (@DSU_Alumni), Tumblr (http://www.dsualumni.tumblr.com), LinkedIn (DSU alumni), Instagram (dsualumni) and You Tube (dsualumni1).
Save the dates for Pig Pickin' (Sept. 27) and Homecoming (Nov.15).