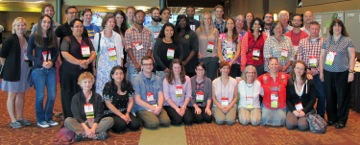 Dr. Nina L. Baghai-Riding, professor of biological and environmental sciences, recently attended the Botanical Society of America Meeting July 26 – 30 in Boise, Idaho. One of her environmental science students, Kendall Davis of Oxford, also attended the meeting.
Baghai-Riding and Kendall presented a poster entitled "Palynomorphs from the Base of the Late Jurassic Morrison Formation, Colorado Springs, Colorado, U.S.A." Their research focused on the oldest part of the Morrison Formation, which is known principally for its large dinosaurs.
In the study, they documented 25 different plant taxa and deduced that this particular unit represented a former wetland based on the abundance of fern spores and fresh water algal cysts. The duo worked on this research during the spring 2014 semester. Other collaborators included Lauren Dangles and Dr. Paul Myrow from Colorado College, and Dr. Carol Hotton with the National Museum of Natural History, Smithsonian Institution.
Baghai-Riding also co-authored another poster presentation that was provided at the conference. The poster highlighted the Delta State University herbarium, as well as other Mississippi herbariums. The poster was entitled "Magnolia grandiFLORA: a Virtual Resource of Plant Diversity in Mississippi." This research is associated with a five-year National Science Foundation grant that was awarded to Delta State in 2012.
Baghai-Riding also served as a PLANTS Grants Mentor while attending the conference. Students who received a PLANTS grant are recognized as outstanding undergraduates that possess an interest in plant sciences. The grant covers travel costs to and from the venue and other expenses that are acquired during the schedule.
This year, Baghai-Riding mentored Gemma Dugan from Bucknell University. As a mentor, she attended professional talks, socials and other student events that took place during the conference. Baghai-Riding, recognized as a senior mentor, has been a PLANTS Grants mentor for the past four years.
Learn more about the Botanical Society of America at http://www.botany.org/.