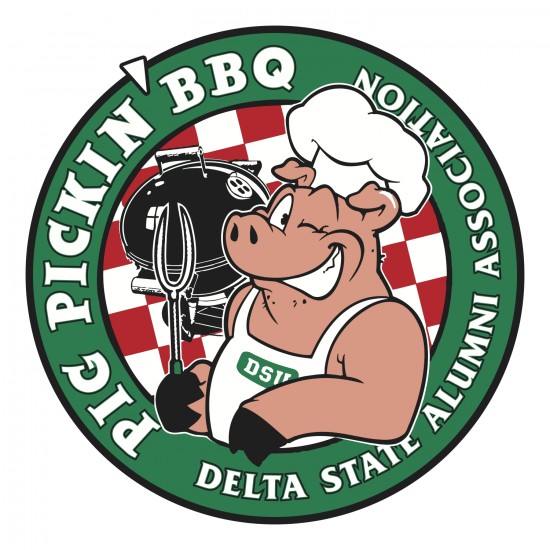 The Delta State University Alumni Association is gearing up for the 29th annual Pig Pickin' event, which will be held Sept. 26-27 at Statesmen Park.
"Pig Pickin' continues to grow by leaps and bounds year after year," said Jeffrey Farris, director of Alumni Affairs. "Many different campus departments, community groups and alumni constituencies are beginning to establish their own events and traditions around Pig Pickin'. We are looking forward to another record-breaking year with the 29th annual Pig Pickin'."
The event will kick off Sept. 26 at 6 p.m. with the Polk's Meat Sponsors' Dinner at the Hugh Ellis Walker Alumni-Foundation House. The barbecue competition cook's meeting will begin at 8 p.m. at Statesmen Park, followed by live entertainment provided by Southern Halo.
The Cook Team Competition is a staple every year for Pig Pickin'. The competition is divided into two segments. Friday night will be auxiliary categories, which includes booth decorations, sauce, beans and sausage any-way. Saturday will be the championship categories, which includes chicken, ribs and pork. Trophies and cash prizes are awarded to first, second and third place finishers in almost every category, and the grand prize of $500 and a trophy will be awarded to the team with the highest combined score of the three championship categories.
For more information about the Cook Team Competition, contact Dana George at 662-846-4300 or dgeorge@deltastate.edu, or the Alumni Association staff at 662-846-4660.
Various activities will take place Sept. 27, including the 23rd annual Delta State Triathlon, which will begin at 8 a.m. at the Aquatics Center. From 1-5 p.m., the Kids Zone will be open at Statesmen Park along with alumni and friends tailgating. There will also be a Legacy Tent for members of the newly established Legacy Program.
The Pig Pickin' barbecue serving lines will be open from 3-5 p.m. The BBQ competition winners will be announced at 5 p.m., and the Delta State football team will kick off against Central State University at 6 p.m. Other activities include the Delta Down and Dirty Youth Obstacle and Challenge Run, a pep rally at Statesmen Park and live entertainment provided all day.
The first 500 registered attendees at Statesmen Park will receive a souvenir 29th annual Pig Pickin' stadium cup.
Businesses or individuals can be sponsors of Pig Pickin' at the $150, $300, $500, $750 or $1000 levels. To purchase tickets or sponsor the event, visit www.deltastategiving.org/alumniassociation/pigpickin.
The full schedule of Pig Pickin's events will be released at a later date. For more information or to contact the Alumni Association, call 662-846-4660. To stay up to date on the Alumni Association's activities, follow these social media sites: Facebook (Statesmen Graduates), Twitter (@DSU_Alumni), Tumblr (http://www.dsualumni.tumblr.com), LinkedIn (DSU alumni), Instagram (dsualumni) and You Tube (dsualumni1).