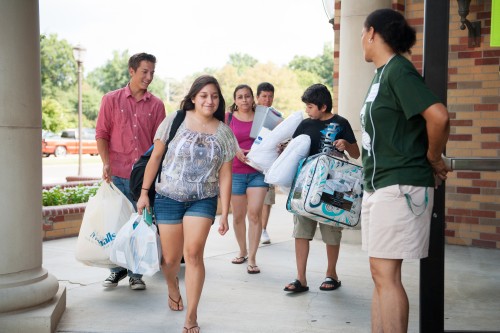 Staff members at Delta State University are already gearing up for the start of the new school year, scheduled to kick off Aug. 17 at the annual Move-in Day.
Approximately 1,100 students living on campus this fall will have the opportunity to enjoy some housing renovations, along with revamped dining options at the Mill in the Student Union.
"The beginning of the fall semester is less than a week away, and it's time once again to welcome our students back to campus," said Jeanna Wilkes, Student Success Center advisor. "At our annual residence hall Move-In Day, we receive many positive comments from parents and students about how helpful and friendly everyone is, and we want to roll out the 'green' carpet again this year."
Along with staff, Delta State's Student Government Association, orientation leaders, student organizations, local churches, student-athletes, faculty and students will be on hand to assist with greeting and unloading at the residence halls.
A number of campus offices will be open for service and support, including Admissions, Barnes and Noble Bookstore, Financial Aid, Career Services, Housing and Residence Life, Registrars' Office, Student Business Services and University Police.
"We will have a welcome tent in front of the dining hall serving free water, Nehi sodas, Sonic Drive-In limeades, Denton's Dairy ice cream sandwiches, Domino's pizza, Sherlone's snow cones and workers providing directions," added Wilkes. "Several campus offices will be open to make it convenient for students and parents to finalize plans."
Delta State's large motorized carts will be offering shuttle services, and volunteers will be stationed at campus entrances to assist parents and students in locating places around campus.
Those interested in volunteering for Move-In Day are asked to contact Wilkes at jdwilkes@deltastate.edu. Assistance is needed in the following areas:
* Volunteer at a residence hall (two-hour slots): 1-3 p.m. or 3-5 p.m.
—- serve as a greeter to welcome students and parents
—- help unload student belongings into residence halls
* Volunteer at campus entrances (two-hour slots): 1-3 p.m. or 3-5 p.m. Feel free to bring a lounge chair or umbrella with you.
—- Kent Wyatt Hall and Walter-Sillers Coliseum entrance at stoplight
—- Sunflower Road entrance at quadrangle/flag plaza
—- 5th Avenue entrance between Broom Hall and Capps Archives building
—- Maple Street entrance to Court of Governors and New Men's Residence Hall
* Drive a 'People Mover' cart (two-hour slots): 1-3 p.m. or 3-5 p.m.
—- shuttle guests throughout campus as needed
Volunteers are asked to wear a green shirt for identity purposes. Name-tags will also be provided to all volunteers.
Also, if you are hashtag-savvy, please tweet @deltastate using #DSUMID2014 with your move-in day photos!
"We need everyone's help to make this day a success," said Wilkes. "Thanks in advance for your assistance."
Stay up to date on all campus events, news and headlines at www.deltastate.edu.