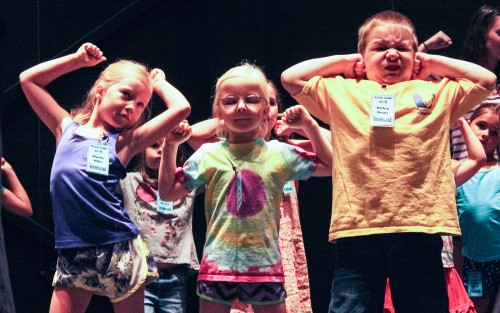 Over 100 campers from across the nation arrived at the Bologna Performing Arts Center in Cleveland today. Young artists from Mississippi, Tennessee, Louisiana, Georgia and even California eagerly arrived anticipating a week filled with song, dance, storytelling and puppet making at the 2014 Janice Wyatt Mississippi Summer Arts Institute (MSAI) PLUS Camp.
The camp is a one-week, performance-oriented day camp for ages 5-12, centered on learning a choreographed medley of songs. Campers attend classes throughout the day such as prop design, storytelling, puppetry and music.
Classes meet all day Monday-Friday and will culminate with a public performance on Saturday. This year's camp is based on the unified theme "Growing Up Broadway."
 "PLUS Camp promotes the artistic development and creativity of our young artists," said Whitney Cummins, BPAC Arts Education coordinator. "Every summer is filled with both new and returning campers, as well as a highly qualified and diverse faculty and staff. Campers learn a great deal in just a short week, and the results are always impressive."
Now in its 17th summer, MSAI has a legacy of inspiring young artists to create and explore.
"Camp this year pushed my limits and expanded my knowledge," wrote a young artist who attended the MSAI Arts Camp earlier this summer. "Camp helps me find myself."
PLUS Camp will culminate at 10 a.m. Saturday with a community-wide performance on the BPAC's main-stage. The performance is free, open to the public and will last approximately one hour.
For more information about PLUS Camp, contact Cummins at 662-846-4844 or visit http://bolognapac.com/.