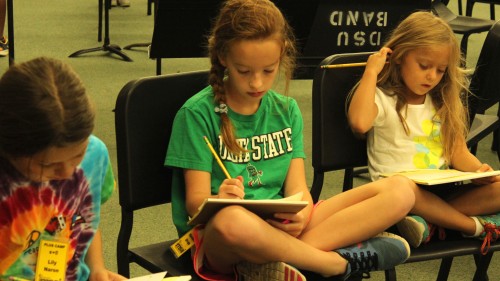 On July 19, over 100 youth sang and danced their hearts out on the Bologna Performing Arts Center main-stage in the Janice Wyatt Mississippi Summer Arts Institute (MSAI) Plus Camp final performance. The camp theme this year was Growing Up Broadway, and the eager young artists aged 5-12 learned tunes from Les Miserables, Wicked, Sunset Boulevard and other Big Apple classics.
However, campers this year learned more than the lyrics to "Let Me Entertain You." Each camper took classes in storytelling, puppetry, prop design and singing technique. These young artists spent part of their break from school writing and telling each other their own modern fables. They learned how to be appreciative audience members and take turns performing. Campers learned to raise their hands quietly and wait to ask questions. Most importantly, they had a ton of fun.
The Janice Wyatt Mississippi Summer Arts Institute offers arts camps in varied disciplines for young artists ages 5 to 18. Watch for information on how to apply for MSAI next summer in the spring of 2015. For more information about PLUS Camp, please call Whitney Cummins at 846-4844 or visit www.bolognapac.com.