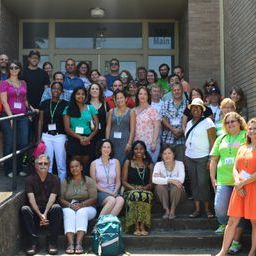 The Delta Center for Culture and Learning at Delta State recently welcomed another set of 40 K-12 teachers to its week-long workshop "The Most Southern Place on Earth: Music, History and Culture of the Mississippi Delta."
The teachers came from 25 states and explored the blues, civil rights heritage, religious and culinary heritage, the flood of 1927 and the Great Migration. Participants made stops in Ruleville, Cleveland, Greenville, Clarksdale and Memphis — visiting museums, churches and historic sites, and listening to presentations by Civil Rights activist Charles McLaurin, Emmett Till cousin Wheeler Parker, Senator David Jordan, bluesman Bill Abel, Benji Nelkin, and FBI agents Dale Killinger and Lent Rice.
Dr. Charles Wilson lectured on religious heritage in the Delta. Ethnomusicologist Dr. David Evans spoke on the history of the blues, and historian Robert Luckett talked about the migration of Delta resident to Chicago and points north. Dr. Edgar Smith talked about growing up in Hollandale in the 1940s and '50s, and Reggie Barnes spoke about his experiences in the West Tallahatchie School District.
The workshop was sponsored by the National Endowment for the Humanities. This was the tenth time the Delta Center offered the workshop, and collectively, these workshops have brought over 400 teachers to the Mississippi Delta. Participants have come from all 50 states and several foreign countries. The teachers return to their classrooms to teach about the stories learned in the Delta.
The workshop was led by the center's Luther  Brown and Lee Aylward, with assistance from Duke University student Andrew Tan-Delli Cicchi.