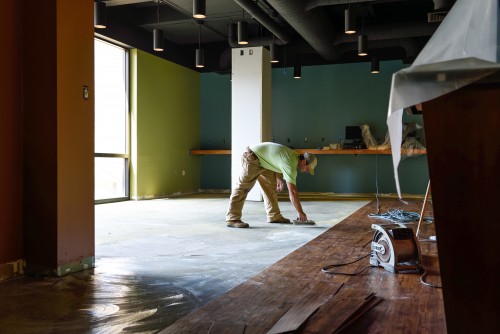 Delta State continues to boost and revitalize dining options available at the university thanks to ARAMARK, the award-winning food service provider. A major overhaul has begun at the Mill area on the first floor of the H.L. Nowell Student Union.
The updates were approved to adjust for changing wants and needs of the student and customer population.
"ARAMARK is very excited to continue our partnership with Delta State University," said Courtney Bryant, ARAMARK marketing manager. "We look forward to continued success as we grow the dining program.
"The Union food court will see an update to make the space more open, bright, and inviting for students. Additional seating will be brought in, as well as additional lighting and fresh paint."
Layout will change with the removal of the glass walls at the front of the food court, as well as the wooden and glass partition that separates the food court from the adjacent dining area. The renovated venue will feature registers at each dining location, providing the customer with a true food court experience.
"Most notably, at Chick-fil-A, customers will order from an associate as if they were in a traditional store, and their orders will be filled and handed back to them," said Bryant.
BurritoBowl, the newest concept by the Freshens brand, will replace the previous Freshens location serving smoothies and frozen yogurt. BurritoBowl will offer globally inspired rice bowls, burritos and salads.
"While the name may be misleading, this is not a 'Mexican' concept," said Bryant. "This will give customers a personalized experience, with flavor profiles inspired by cajun, buffalo, asian and other cuisine. This is an exciting addition."
Also being introduced is P.O.D. Express (Provisions On Demand). This venue will host all of the grab-n-go items that students may need on their way to class.  From snacks to portable meals, P.O.D will offer quick and convenient options.
Java City coffee shop will bring a fresh new look into the fall semester. This location will have new flooring, paint and furniture. Digital menu boards will profile new menu items, including bagels and blended beverages. Additional electronics charging stations will be added for students to utilize.
The open Mill seating area will undergo lighting changes and the removal of ceiling fixtures. Booth seating, bar seating and additional charging stations will be added to the area to ensure ample space and accommodation.
Bryant said she also looks forward to finalizing upgrades to Young-Mauldin Dining Hall. Students will arrive this fall to fresh paint and some sparkling additions to the dining room.
Meal plan options will be as follows:
—   Students living on campus as freshmen and sophomores will be enrolled in All-Access Pass, allowing unlimited visits to Young-Mauldin and $175 Flex dollars to use at other campus locations.
—   Juniors and seniors will have the ability to choose the All-Access Pass or Build Your Own Plan, allowing a choice for the number of block meals (meals eaten at Young-Mauldin) and the number of Flex dollars ($200, $400 or $600) in order to create a plan that fits the individual's dining needs, class schedule and preferences.
Commuter students, faculty and staff members will all have the ability to choose any of the options above.
For more information on dining at Delta State, visit http://www.campusdish.com/en-us/CSS/DeltaState.