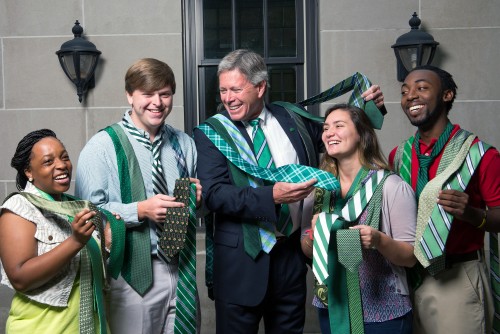 Just over a year ago, local media coined the nickname "Green Tie President" for William N. LaForge, the man who came to Delta State University with great excitement in April of 2013 as the new president.
The school's colors of green and white are unmistakable across campus, and the university's leader has made a point since day one to wear a green tie whenever he's on the clock.
"The collection has tripled since the initial green tie article was published last summer," said LaForge. "The streak is alive. I've worn a green tie every day to work or when I'm traveling for Delta State, without exception."
The green tie "habit" is a symbol of LaForge's never-ending passion and dedication to his alma mater.
"I don't want to act like a walking advertisement, but I do feel that you have to have an unabashed optimism to be a leader," said LaForge. "Even if it comes across to some people as a little bit goofy. That positive zeal is critical, because if you don't have it, who the heck will?"
LaForge has heard about the green tie article from fellow institutional leaders in Mississippi, and he's received numerous emails and calls in support of the concept.
"People often comment on my ties, and some people walk up to me to make sure I'm wearing one."
Along with the ties, LaForge always has a Delta State lapel pin proudly placed on his jacket. And a new item has recently become a part of his pitch — green and white Delta State guitar picks.
"These are more of a communication piece, and I like to give them to recruits who are music oriented," he said. "The tongue and cheek line I'm giving now is 'We want people to pick Delta State.' I know it's an eye roller for younger people, but it's another way to get our name out."
These symbols are much more than just for show. It's LaForge's fun way of showing commitment to the message that he and others have pitched during his first full year in office.
"I'm committed to all of this, and I want our students to buy into this vision that we have put together and share," said LaForge. "Let me promise you this — we are in for a ride. There are exciting days ahead."
The excitement comes from a number of highlights under his leadership — from the Delta State University Colloquia: Distinguished Speakers Lecture Series; the inaugural Winning the Race Conference; and $598,000 in grant support from the Hearin Foundation for creation of the International Delta Blues Project.
These efforts, and more, will continue to put Delta State on the map.
"I've had a year under my belt now and I've had a chance to grasp operations with a much better perspective than one year ago," added LaForge. "The learning curve went fast, and I've been advised by some great people on campus.
"We're at a point now we can perceive needs, discern change opportunities, and really move things ahead. This is a big team effort, not just me. The tie is merely a symbol of that, and it's something people have come to expect."
The symbol has also made a mark at regional high schools across Mississippi, Arkansas and Tennessee, as LaForge continues his efforts to attract more students to Delta State. Since taking office, he has tirelessly visited with high school students to increase the university's diverse and talented student body.
Expanding Delta State's partnerships with international institutions has also been one of the president's focal points, and the green tie has even caught on across the pond.
"The green tie phenomenon has reached Europe," joked LaForge. "Colleagues in Russia and Poland, where I taught, have mentioned it to me on recent visits. I was even given a green tie as a gift in Poland when I was a guest lecturer in May."
While the ties are a strong symbol and lighter way to connect with colleagues and the community, LaForge remains focused on guiding Delta State through more serious concerns, such as budget, enrollment and infrastructure needs.
"Classroom instruction is our primary concern, and we look forward to continuing to grow and expand our programs," he said. "We will continue to build our outreach to Delta communities and be a model regional university.
"Part of our pitch is that we have a great quality of education at a terrific price. The value here is hard to beat."
The tie streak shows no signs of ending, as LaForge remains dedicated to a reenergized Delta State.