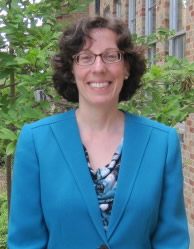 Dr. Ellen Green, associate professor and chair of the Department of Biological Sciences at Delta State University, recently graduated from the HERS Bryn Mawr Summer Institute, held July 6-19 at Bryn Mawr College in Pennsylvania.
Since 1978, the Higher Education Resource Services Institute for Women in Higher Education at Wellesley College has annually offered women faculty and administrators the opportunity to participate in an intensive program preparing them as leaders in higher education.
"One of the benefits of this experience has been that I now have a network of 72 women who are influential at their institutions," said Green. "They will serve as a resource when I have questions and will alert me to future trends in higher education as they develop. I feel incredibly fortunate to have been selected to attend the HERS Summer Institute, and even though it was only two weeks, I feel like my understanding of higher education has advanced to the next level."
The 73 participants selected for this year's institute represented public and private institutions from across the United States.
Responding to the current global environment of higher education, this year's program focused on "Women Leaders: Facing the Challenges as We Re-Invent Higher Education."
Topics included: "Understanding the Environment for Higher Education;" "Planning & Leading Change in the Academy;" "Managing & Investing Strategic Resources;" "Engaging Individual & Institutional Diversity;" and "Mapping Your Leadership Development."
"We had excellent sessions on conflict resolution in which we learned to understand different personalities and how to resolve issues in a mutually beneficial way," added Green. "In other words, it taught us how to negotiate effectively. Another session that was especially useful to me was on legal and  financial aspects of higher education."
Green has been at Delta State University since 2007, serving as a faculty member, president of the Faculty Senate from 2012-2013 and was recently named chair of the Department of Biological Sciences. She was previously employed as a research scientist and project leader at Kimberly- Clark Corporation in Neenah, Wis.
For more information about HERS, visit www.hersnet.org.