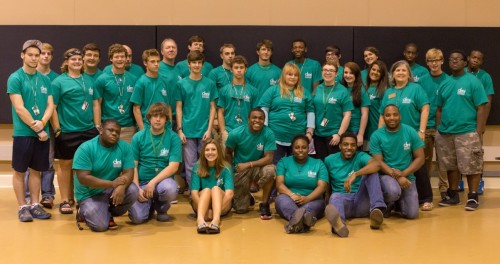 Students attending the eighth Delta Music Institute Summer Camp at Delta State University will be showcasing their musical talents in a concert at the Bologna Performing Arts Center on July 19 at 6 p.m. The concert, which will feature familiar hits, along with original songs written by the campers, is free and open to the public.
Over 20 campers from four states are spending the week learning the ins and outs of the entertainment industry in three different areas of instruction. Students attending the camp are studying audio engineering, performance band or a singer/songwriter track in an interactive setting with the culmination being the live showcase along with a professional studio recording.
The DMI Summer Camp performance band is under the direction of DMI Instructor Barry Bays and assisted by Nashville studio drummer/producer Vince Barranco. Staff member Travis Calvin oversees the recording sessions, and DMI Director Tricia Walker offers direction to the singer/songwriter students. DMI Instructor Charly Abraham provides stage performance coaching to the aspiring musical artists with input from artist-in-residence Steve Azar. Staff member Katt "DJ Saxy" Grant will instruct beat-makers and producers in the skills involved with DJing. Delta State entertainment industry majors are serving as camp counselors and support staff.
"The DMI Summer Camp continues to be a highlight of our year," said Walker. "It's amazing what these talented campers can create and put together in only a week's time."