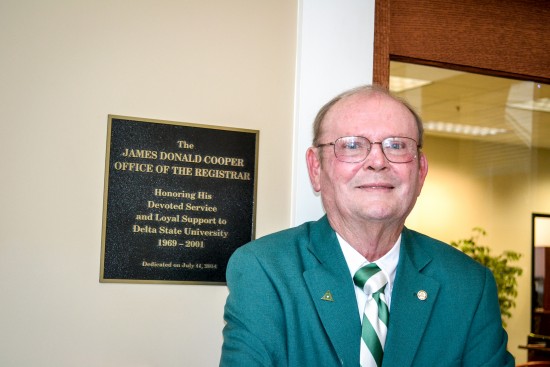 The Delta State family gathered Friday to celebrate the dedication of the James Donald Cooper Office of the Registrar in Kent Wyatt Hall. Cooper, who remains a passionate and active presence on campus, will forever be honored for his years of service with this designation.
The longtime Statesmen served in many roles after beginning his career at Delta State in 1969, including 
admissions counselor, registrar and director of admissions. He retired from Delta State in 2001 and was bestowed the 
title of Registrar Emeritus for his years of dedication.
"This is the greatest honor that I've ever received," said Cooper. "This is a great, great day, and it's been a real shock. I loved every second at Delta State — as a student and when I worked here."
The event featured remarks
 from Cooper, along with President Emeritus Dr. Kent Wyatt; Registrar Emeritus Penney Gong; Charlie McGuffee, president of the Delta Regional Foundation; and Delta State President William N. LaForge.
"Dr. Wyatt, President LaForge and everyone who helped put this event together did such a great job," added Cooper. "I can not explain how much of an honor this is."
Wyatt, who served as president during Cooper's career, has always admired Cooper's passion for the institution.
"One of the things that I value most about James Donald Cooper is his devotion, loyalty and love for Delta State. He is green and white to the core and has spent the majority of his adult life giving to the university," said Wyatt. "What I appreciated the most as president was the way he transformed the Registrar's Office from a record keeping entity to a service oriented operation."
Cooper grew up in Drew, Miss. and graduated 
from Drew High School. He concluded his undergraduate studies at Delta State in 1963 in music education, and completed his Master's of Education in 1968.
Prior to working at Delta State, he spent six years as band director for West Tallahatchie School District.
He 
remains active at Delta State by attending all home football 
games, a record he has maintained since 1970. He has also attended all
 commencement events since 1968, and served as Master of 
Ceremonies for the Most Beautiful Pageants and Miss DSU 
Pageants for more than 30 years.
Cooper and McGuffee, also an alumnus and lifelong friend to Cooper, are establishing members of the Delta Regional Foundation, a charitable organization founded to support Delta State University in various capacities.
Grants from the Delta Regional Foundation support such university priorities as scholarships for deserving students, faculty development and academic enrichment.
Cooper was elected as 
an alderman for the town of Boyle in 2009 and was elected 
mayor in 2013. He also serves as chair of the Delta 
Area Senior Golf Association.
He is married to 
Norma Vance Cooper and they have two children and three grandchildren.