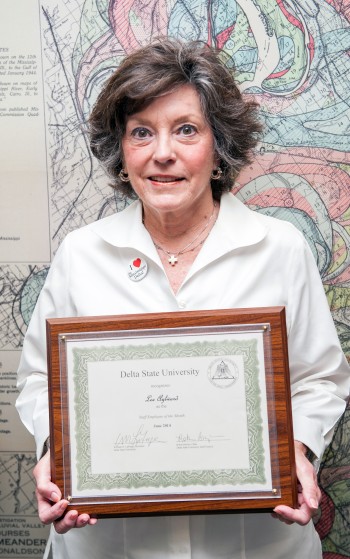 Lee Aylward, program associate for education and community outreach for the Delta Center for Culture and Learning at Delta State University, was recently honored as the June 2014 Employee of the Month.
Aylward is a native of Columbus but has called the Delta home for most of her married life. She has an undergraduate degree from Mississippi University for Women and a master's from Mississippi State University, with additional study at the University of Mississippi, University of Alabama and Delta State.
While she and her husband were stationed in Germany, Aylward was the Army Education Center administrator for the 56th Artillery Brigade with the Department of Defense. She has been both a public and private school librarian, worked in the public library and is a realtor. Aylward said she has loved working for the DCCL for the past nine years.
Aylward and her husband have two married sons and three grandsons. Her hobbies include reading and gardening.
Employee of the Month distinction is given to a staff member who has provided service at Delta State that is considered over and beyond those duties outlined in his or her job description. Nominations are submitted by colleagues on campus.
Each winner receives a plaque, monetary award, WalMart gift card from the Student Government Association, an engraved insulated coffee mug, a free parking decal courtesy of the Campus Police Department, a box of treats from The Sweetery, a parking spot of their choice, two Okra gift cards (one from Athletics and one from a private donor), marquee announcement and website recognition.
 
For an archived list of previous Employee of the Month winners, visit http://www.deltastate.edu/about-dsu/administration/staff-council/staff-council-employee-of-the-month/employee-of-the-month-archives/
 
Delta State's Staff Council serves as a liaison between the administration and the staff to provide a formal process for staff to discuss issues involving university policies and procedures and to forward ideas, recommendations and opinions to the president.