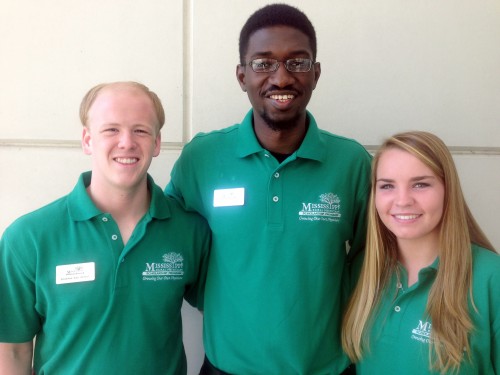 Delta State students ­Mohamed Diaby, Meghan Johnson and Andrew Van Velsor were recently selected to participate in the undergraduate portion of the Mississippi Rural Physicians Scholarship Program (MRPSP).
Created in 2007, MRPSP identifies up to 20 college sophomores who demonstrate the necessary commitment and academic achievement to become competent, well-trained rural primary care physicians in Mississippi.
The program offers two years of undergraduate academic enrichment including Medical College Admission Test (MCAT) preparation and a clinical experience in a rural setting. Upon completion of all medical school admissions requirements, the student will be admitted to the University of Mississippi School of Medicine through Direct Entry.
"I am very honored to be selected for the scholarship," said Johnson, a native of Crystal Springs. "This is a great opportunity for us and will provide us many resources. It will help me afford the costs of medical school.
"I'll have opportunities to see a variety of things in the medical field since I'll be spending a number of hours shadowing doctors and seeing how they work first-hand."
During medical school, each MRPSP scholar may receive $30,000 per year based on available funding. Consistent legislative support of MRPSP translates to 50 medical students receiving a total of $1,500,000 to support their education this fall. Additional benefits include personalized mentoring from practicing rural physicians and academic support.
Upon completion of medical training, the student must enter a residency program in one of five primary care specialties — family medicine, general internal medicine, medicine-pediatrics, obstetrics/gynecology or pediatrics. The scholar must provide four years of service in a clinic-based practice in an approved Mississippi community of 20,000 or fewer people located more than 20 miles from a medically served area.
Van Velsor, from Senatobia, said he was looking forward to working with a rural population, something he is used to because of where he grew up.
"It will be nice to work in an environment similar to what I've always been around," he said. "I'm excited to become a doctor and serve in small communities throughout my life.
"The MRPSP scholarship is a huge blessing and I'm very humbled. This is a great program for the state and a great way to keep Mississippi doctors here. I'm excited to have this opportunity to become the doctor I want to be."
MRPSP provides a means for rural Mississippi students to earn a seat in medical school, receive MCAT preparation valued at $2,000, earn a $120,000 medical school scholarship in return for four years of service and learn the art of healing from practicing rural physicians.
For more information, contact MRPSP associate director Jake Donald at 601-815-9022, wjdonald@umc.edu or http://mrpsp.umc.edu.
####
The Mississippi Rural Physicians Scholarship Program and the Mississippi Rural Dentists Scholarship Program are state-funded efforts to increase the number of dentists and physicians serving the health-care needs of Mississippians in rural areas. Housed at the University of Mississippi Medical Center in Jackson, and collaborating with its schools of medicine and dentistry and the College of Osteopathic Medicine at William Carey University in Hattiesburg, the programs use various outreach, mentoring and training methods to identify, support, educate and deploy new generations of health-care workers for Mississippi's underserved populations.