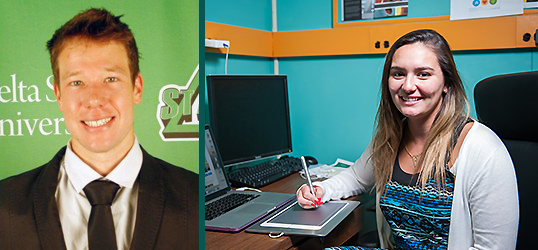 A number of international students at Delta State continue to make an impact, on campus and off, thanks to internship opportunities arranged through the university's International Student Services (ISS) office.
Administered by ISS, senior Yvan Nys of South Africa is utilizing the Curricular Practical Training program to spend his summer working for the Mississippi World Trade Center. CPT is temporary authorization for practical training directly related to an international student's major field of study. Nys is a double major in international business and finance.
The MWTC is a nonprofit organization that fosters international trade and economic growth in Mississippi and the Mid-South region. The center is part of a global organization made up of over 300 World Trade Centers in 100 countries, and is the world's largest reciprocal business trade association.
Some of Nys's responsibilities include: providing trade information and market research, briefing materials for visits by foreign dignitaries, and working with the Mississippi Development Authority's Trade and Research Bureaus on special projects.
"CPT is a fantastic program as it allows international students to get real life experience in their specific field of study," said Nys. "I met a MWTC representative at the International Business Symposium that was held at Delta State. I encourage international students to network at these events and don't be scared to ask for opportunities.
"My experience at Delta State has been wonderful as I have embraced student life fully, both on the swim team, socially, academically and through the organizations and programs I am a part of."
Much like CPT, Optional Practical Training (OPT) takes place after the completion of an academic degree program. This option grants up to 12 months of employment through work or internships related to the field of study.
Alejandra Torres of Peru is one recent graduate making the most of OPT opportunities by working as a graphic designer in the Communications and Marketing office at Delta State.
Her typical duties include designing print and online ads, brochure layout, and assisting lead graphic designer Laura Walker with the university's promotional material.
"I feel extremely lucky to have this opportunity," said Torres, who graduated with a graphic design degree in May. "I worked in the office as a student intern and I was excited to have the option to stay on temporarily.
"Delta State has allowed me to learn about graphic design as a student, but also apply my skills professionally every day in a real work environment. It's great to be able to get a sneak peak of the real world."
Both CPT and oPT align with regulations established by U.S. Immigration and Customs Enforcement. The program provides valuable work experience by sharpening and adding to the skills learned by students in school.
 "There is no doubt CPT and OPT lead to some truly unique working opportunities for our international students," said Christy Riddle, executive director of ISS. "Delta State is proud of the impact these students make. Their footprints can be seen on campus, and in many cases, beyond borders."
Many of Delta State's international students are working across the country this summer, filling positions that are preparing them for long and successful careers. To learn more about international programs at Delta State, contact Riddle at 662-846-4574 or criddle@deltastate.edu.