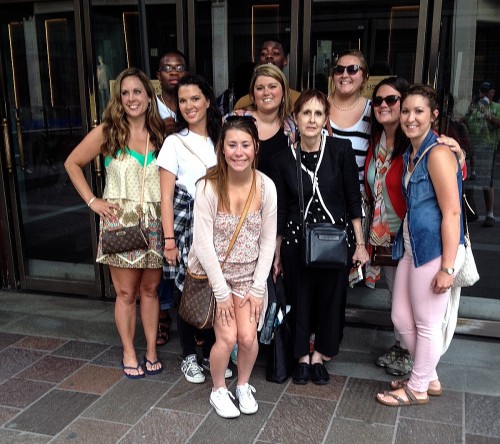 From London to Paris to Milan, a group of Delta State fashion merchandising students had a summer class to remember thanks to a recent academic-based trip to Europe.
Jan Haynes, professor of fashion merchandising, said the tour was designed to expose students to the global nature of the industries of textiles, apparel and retail.
"Students made contact with business professionals through on-site visits to a couture house, as well as the home office of Diesel, a large Italian apparel producer that caters to a contemporary clientele," said Haynes.
One of the anticipated cultural experiences was a private showing of Princess Diana's gowns at Kensington Palace in London. The visit was arranged by Pat Kerr, a Delta State supporter from Memphis and internationally esteemed couture designer of special occasion apparel. She is also a collector of royal memorabilia and the owner of one of the gowns in this "Fashion Rules" exhibit.
One of the major goals of the trip was to emphasize the social and economic importance of the fashion industry in major European apparel centers.
Students were asked to identify the varied career opportunities in the fashion industry and develop an understanding of the duties, responsibilities and training needed for each career.
Opportunities were made to interact with professionals in the fashion industry and gain insight from their personal perspectives.
The trip also aligns with Delta State's recent five-year Quality Enhancement Plan with efforts to improve overall cultural competence on campus.
Sam Partee, a fashion merchandising major from Clarksdale, said the experience provided some unforgettable firsts.
"It was my first time to Europe and it was definitely a trip to remember," said Partee. "We got to experience a lot of new things, new cultures and cities – it was a real eye-opener."
Partee said he would recommend future fashion merchandising trips  because of the first-hand experiences students are able to learn from.
"You really don't get to experience a lot of opportunities like this when your from around here," he said. "It's a once in a lifetime opportunity to tour three major fashion cities and learn so much doing it."
The trip was designed for students in the fashion merchandising program, but other targeted students included those interested in aspects of the fashion industry including business and art. The tour was also open and promoted to a broad base of interested adults, including university students, staff, faculty, alumni and community members.
Six students took the course for three hours of undergraduate credit. They were required to read several articles prior to the trip. During the trip, they were required to keep thorough journals, with the objectives of reflection and evaluation, and to have a written and visual documentation of activities. They were also required to choose a focus topic and write a detailed research paper.
To learn more about fashion merchandising at Delta State, visit http://www.deltastate.edu/college-of-education/family-and-consumer-sciences/fashion-merchandising-family-and-consumer-sciences/.