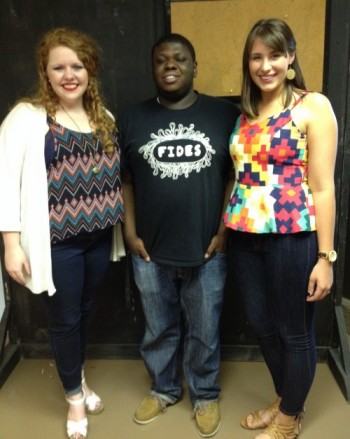 Five students from the Delta Music Institute Entertainment Industry Studies program at Delta State University have secured internships in music and entertainment businesses in Memphis, Nashville and New York City.
Amber Foster from Belzoni, Jonathon Smith from Enterprise, Horace Willis from Arcola, Ike Iloegbu from New York and Harrison Downs Wood from Huntsville, Ala., will be earning credit towards their college degrees by completing internships in real working environments throughout the summer of 2014.
Foster was selected to be the summer intern for the Memphis chapter of the Recording Academy, the organization that contains the GRAMMY program.
"After being chosen as the Recording Academy's Memphis intern, I was beyond elated," said Foster. "This is a dream of mine. Almost every opportunity I have had through Delta State and the DMI has led me to this and I couldn't be more honored."
Willis, Smith and Iloegbu will be interning in the field of audio recording and live sound reinforcement. Willis will be working at the famed Ardent Studios in Memphis as a studio intern, and Smith will be working with First Effects Sound from Olive Branch, offering live sound reinforcement for events in the Memphis area. Iloegbu will be working at Bass Hit Recording with GRAMMY award-winning engineer and producer Dave Darlington.
"My internship is an opportunity of a lifetime in leading me in the right direction," says Iloegbu. "The new connections and experiences are essential to my growth as an engineer."
Downs Wood secured an internship with the Nashville office of the Paradigm Talent Agency, a full-service entertainment agency with offices in Beverly Hills, New York, Monterey and Nashville. Paradigm is considered one of the "Big Five" U.S. talent agencies.
The DMI is an independent center under the College of Arts and Sciences at Delta State University. Its mission is to provide students with a broad and thorough education in the technological, creative and business areas of the entertainment industry. For more information about the program, contact the DMI office at 662-846-4579, or visit http://dmi.deltastate.edu.