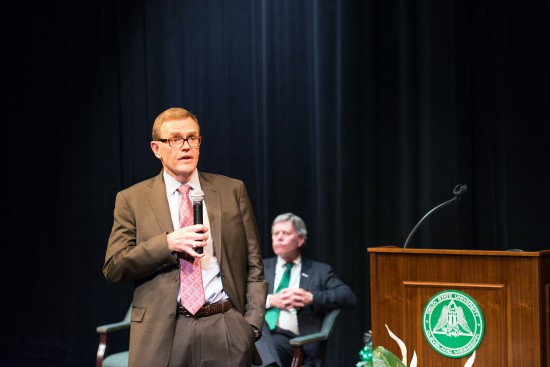 United Parcel Service Inc. (NYSE:UPS) announced today that Chief Operating Officer David Abney, Delta State University graduate of 1976, has been promoted as its next chief executive.
Abney started with the shipping giant as a part-time package loader in 1974 and will take over for Scott Davis, who served as UPS's chairman and CEO since 2008. Davis will retain the role of chairman.
The moves are effective Sept. 1, and the turnover is consistent with the company's past practices in which chief executives typically serve five-to-seven years. UPS is also known for promoting executives from within its ranks.
"I am deeply honored to be selected by the board to serve as CEO," Abney said in a UPS press release. "The company has provided me tremendous opportunity, amazing career experiences and rewarding professional development.
"I believe it is my duty to create an environment where talented UPS people can excel by helping our customers to accomplish their goals. Ultimately, I believe that is how, together, we will build on the UPS legacy of success."
Abney, 58, held various operational positions at UPS prior to his stint as operating chief, including president of UPS International, where he led the expansion of the company's global logistics capabilities.
He also served as president of SonicAir®, UPS's same-day delivery service. While president of the airline, Abney was honored with the Professionalism in Services/Support Management Award by the International Association of Services Management for demonstrating exemplary managerial characteristics.
This is big news for Delta State graduates, as Abney continues to make his presence felt in the international business world. Abney studied marketing at Delta State and was named the 2007 Outstanding Alumnus of the Year. He currently serves on the Delta State University Alumni Foundation Board of Directors.
Delta State President William N. LaForge was thrilled to hear about Abney's most recent development.
"Abney's appointment indicates an outstanding accomplishment by an outstanding individual," said LaForge. "It reflects prestige and credibility on Delta State University, where he received his education. The Delta State family is thrilled with this announcement of his promotion. We know he will serve with great distinction, and he is clearly one of our best and brightest graduates.
"To see one of our graduates at this level of corporate America makes it all the more admirable that he remains engaged on our campus through his annual sponsorship of the International Business Symposium and as a prestigious member of the Delta State University Foundation."
This spring, Abney keynoted Delta State's ninth annual International Business Symposium. He and his wife, Sherry, both Delta natives, have sponsored the IBS at Delta State since its inception.
"Sherry and I wanted to do something meaningful for the Delta. By bringing global leaders onto campus and sharing their experiences with students, I believe we'll be able to expand Delta State students' horizons in how they see and prepare for their futures," Abney said in a previous Delta State interview.
Keith Fulcher, executive director of Alumni-Foundation at Delta State, was also delighted with Abney's progression. Abney has remained a valuable asset through the years to the Delta State University Foundation.
"Delta State University and the National Alumni Association, with its 32,000 members, are very pleased with David's promotion to CEO," said Fulcher. "David's involvement as a Foundation board member, and his financial support of the International Business Symposium, has brought visibility and recognition to Delta State University as a leader in higher education in preparing our students for working in the global economy."
To this day, Abney remains proud of the path Delta State helped pave for him, something he indicated as the most recent lecturer for the Delta State University Colloquia Distinguished Speakers Lecture Series.
"Obtaining my degree from Delta State was like crossing the continental divide. I was the first in my family to graduate from a university," said Abney. "I also transitioned from the hourly ranks to management at UPS. My education at Delta State certainly helped prepare me for the 'real world' of business.
"As I now travel throughout the world, I proudly refer to Delta State wherever I go. I wholeheartedly recommend Delta State to anyone that is interested in continuing their education."
As CEO, Abney will be tasked with improving UPS's efficiency as it looks to keep up with a boom in e-commerce. Average daily package volume at UPS has grown 12 percent over the past five years.
Meanwhile, competition in the shipping industry is likely to increase as a number of retailers like Amazon.com and Wal-Mart Stores Inc. test their own delivery networks.
For more information on the company, visit UPS.com and its corporate blog at blog.ups.com. To get UPS news direct, visit pressroom.ups.com/RSS.