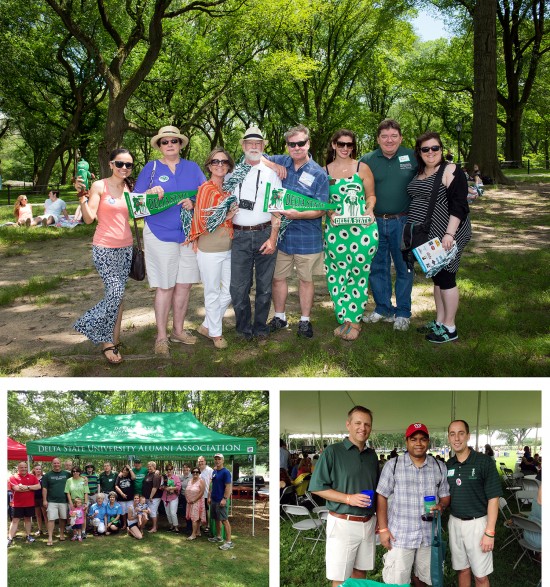 The Delta State University Alumni Association has been busy traveling this summer. Staff recently attended Mississippi picnics in New York City, Atlanta and Washington, D.C. The picnics are hosted by Mississippians living in these metropolitan areas and are typically supported by the state's universities. The events also offer a little taste of home for people living out of state.
The Alumni Association attends each of these events annually to engage with alumni living in the host cities. The association recently established scholarships that are awarded to Delta State students originally from the New York, Atlanta and Washington, D.C.
The Mississippi Society of Georgia held its picnic June 14 in Atlanta's Chastain Park and was part of an entire weekend scheduled events. One such event was the Alumni and Celebrity Golf Tournament held at Wolf Creek Golf Course. All proceeds raised went to the Mississippi Society of Georgia Scholarship Fund. Following the tournament, the group hosted a social in the Hank Aaron Room at Turner Field prior to an Atlanta Braves game. The weekend culminated with the picnic in Chastain Park, which included live music, door prizes and Mississippi authors and artists.
The 35th annual New York Mississippi Picnic in Central Park was also held June 14 from noon to 6 p.m. This year's theme was "Homecoming" and the featured performer was Mississippi's own Marty Stuart. Governor Phil Bryant was in attendance and brought greetings from Mississippi to the crowd.
The Mississippi on the Mall picnic was held June 21 at Henry Bacon Ball Field in Washington, D.C. The yearly event is sponsored by the Mississippi Society of Washington, D.C., a nonprofit organization dedicated to promoting the best interests of Mississippi in the nation's capital. Approximately 500 people attended Mississippi on the Mall this year. The picnic featured live music and catfish.
To stay up to date on the Alumni Association's activities, follow these social media sites: Facebook (Statesmen Graduates), Twitter (@DSU_Alumni), Tumblr (www.dsualumni.tumblr.com), LinkedIn (DSU alumni), Instagram (dsualumni) and You Tube (dsualumni1). Save the dates for Pig Pickin' (September 27) and Homecoming (November 15).