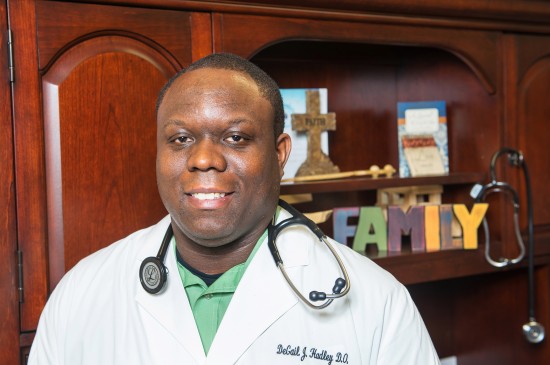 Dr. DeGail Hadley, a Cleveland native, has shown firsthand that a commitment to learning at Delta State University can lead to a promising and meaningful career.
Hadley, the East Side High School valedictorian in 2000, stayed close to home after graduating and began his college years at Delta State — where he would go on to graduate in 2004 as a double major in biology and chemistry.
Since an early age, Hadley knew he wanted to be in family medicine.
"I've known since I was three," he said. "My mom had lupus when I was growing up, and I still remember going to the hospital to visit her. I would see how the doctors interacted and I knew I wanted to be a doctor.
"That experience guided me to the care I provide today, which is compassionate care."
After his years of preparation at Delta State, Hadley moved on to medical school at Kansas City University of Medicine and Biosciences, followed by his residency in Mount Clemmons, Mich.
Nearly two years ago, the young doctor returned to his hometown and became the first African American to have his own family practice in the Cleveland Medical Clinic.
He credits a lifelong commitment to education, and dedicated faculty at Delta State, as major factors preparing him for his career as a doctor.
"Delta State's environment allowed me to grow, learn and become a solid student before transitioning to medical school," said Hadley. "I have always said that Delta State has a good foundation of math and science programs that train students for medical school."
Hadley cited Drs. Ed Williams, Henry Outlaw, Joseph Bentley and Barry Campbell as just a few of the instructors who had a big influence on his Statesmen experience.
"They inspired me and taught me about remaining committed to work ethic," he said. "Dr. Campbell, especially, is one of my heroes. He always inspired me to work harder."
Finding help whenever he needed it at Delta State was also a highlight of his undergrad years.
"If you need help in any subject, Delta State has the resources to help you," said Hadley. "There is a real down home atmosphere where you are not just another number. You are an individual that everyone treats like family."
The community "down to earth" atmosphere, both on campus and off, made it an easy decision for Hadley to return to his Delta roots, this time returning with his wife Felicia. Still with high praise for his alma mater, Hadley works with Student Health Services on campus to see patients who need attention beyond services offered at Delta State.
"Business has really picked up recently, and I'd like to thank the people of Cleveland and the surrounding areas for trusting me with their healthcare," he said. "It's an honor to be their provider."
As for his success in Cleveland's medical world, Hadley said his dedication exemplifies what hard work can furnish.
"My advice for people from here is that success is not determined by where you come from but how hard you work," he said. "If you don't like the environment where you are, it means you have to put more effort into finding your success."
Hadley provides a number of services and treatments for the entire family, including: basic pediatric care; pediatric well child visits, chronic illness management; diabetes; hypertension; physicals and DOT physicals; stress; ultrasound; CT Scans; and more.
He can also offer referrals for specialist care. Contact Hadley's office at 662-843-3606. Practice hours are 8 a.m. to 5 p.m. Monday-Friday.