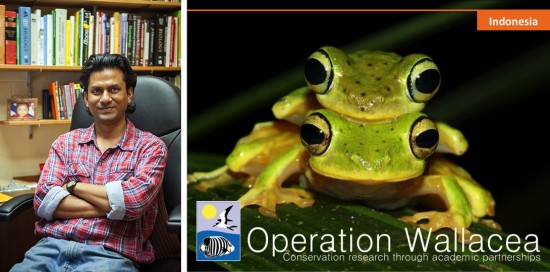 Dr. A.H.M. Ali Reza, assistant professor of biology at Delta State, was recently selected to teach a field course this summer in a pristine biogeographical island group in Indonesia.
The course is coordinated through the international agency Operation Wallacea and runs for eight weeks in remote field sites.
Reza, a native of Bangladesh, was selected among a very competitive pool of worldwide applicants.
"I will be teaching Wallacea Forest Ecology in the Wallacea region of Indonesia, which is biographically extremely important to understand the origin and evolution of animals," said Reza.
Wallacea is an essential biogeographical island group in eastern Indonesia, which includes Sulawesi Island. Sulawesi is the largest of these islands, occupying about 53 percent of the island group located in the northwest part of Wallacea.
"Because of its tropical climate, numerous islands and complex geological history, Wallacea has high biodiversity, with numerous species found nowhere else in the world," said Reza. "Its total number of species is estimated at 11,400 and holds a high probability of undiscovered species due to the area's isolation and inaccessibility."
Reza said he truly appreciates the opportunity to study in one of the planet's most unique locations.
"To get there and work in the Wallacea region is a dream opportunity for every biologist," he said. "In addition to teaching the field course, I am also planning to establish a long-term wildlife research program with my hosting agency, Operation Wallacea — www.opwall.com.
"I hope to continue this collaboration in the future and make this a gateway for my students here at Delta State. I strongly hope the Delta State community would support this collaboration and encourage sending our students for a field course in the summer.
The partnership could potentially develop into a regular study abroad program offered at Delta State.
"I would encourage our students to explore the OpWall website to find any established class they might be interested in for college credit," he added. "This can be an opportunity for our students to get exposure in a different ecological region."
Operation Wallacea is a network of academics from European and North American universities, who design and implement biodiversity and conservation management research programs. Research is supported by students who join the program to strengthen their CV or resume, or collect data for a dissertation or thesis.
Academics benefit from funding for high quality fieldwork enabling them to publish papers in peer reviewed journals. This model enables the collection of large temporal and spatial datasets used for assessing the effectiveness of conservation management interventions.
Reza realized at a young age he had a calling to nature and love for animals. His passion grew while studying wildlife biology at Jahangirnagar University in Bangladesh. As a graduate student, he started working with Bangladesh's only international conservation agency, International Union for Conservation of Nature. Shortly after, he began teaching at his alma mater.
Reza and his wife moved to the United States so he could obtain his doctorate at Texas Tech University, where he graduated in 2010 with a degree in wildlife science.
He and his wife, Selina, enjoy living in Mississippi with their two active sons, Ruhan Reza, 4, and Reehan Reza, 2.
Reza said he is also exploring opportunities to build international student exchanges between Delta State and universities in his homeland. For those interested in studying biology abroad, contact Reza at 662-846-4242 or areza@deltastate.edu.