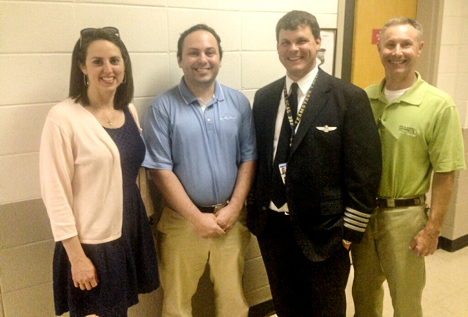 Republic Airways recently visited Delta State University's Department of Commercial Aviation (CAV), the state university system's only undergraduate and graduate aviation program.
The airline presented to CAV students, faculty and staff, complete with a company profile and information regarding internship opportunities at Republic Airways. Alumnus Matthew Torgerson, who also serves on Delta State's Aviation Advisory Committee, discussed the transition from being a Delta State graduate to working as a captain with Republic.
Department chair Julie Speakes was thrilled to host a graduate with first-hand experience of utilizing his education through the CAV program.
"It is such a great feeling to see aviation graduates like Matt so eager to mentor and help current Delta State aviation students," said Speakes. "Chip Cooper and I both taught Matt and are excited that he and Republic Airways reached out to Delta State."
Republic Airways Holdings, based in Indianapolis, is an airline holding company that owns Chautauqua Airlines, Republic Airlines and Shuttle America. The business strategy was developed by an experienced team of senior airline executives.
The company's business model incorporates sound business strategies and insights for the development and management of airlines operating throughout the United States. They aim to provide the safest, most reliable and most convenient travel experience for passengers and the airline partners they represent.
As one of the fastest-growing regional airline companies, Republic Airways recognizes that its employees are the critical piece to continued success.
Delta State's CAV students are prepared to work in the field thanks to specialty studies in airlines industry, aircraft manufacturing, airport management, air traffic control and military aviation.
"Graduates of our program can serve as members of flight crews, air traffic control specialists and executives with supervisory and managerial responsibilities at all levels," said Speakes. "The Department of Commercial Aviation offers a Bachelor of Commercial Aviation with concentrations in aviation management and flight operations, along with a Master of Commercial Aviation.
"Industry professionals have shown graduates of the Delta State program display the highest levels of proficiency and professionalism, which make them prime candidates for positions in today's aviation marketplace. Virtually all of our graduates advance to excellent positions with professional corporate, charter, regional and major airlines — as well as the military."
The flight operations degree provides students with the knowledge and skills to pursue a professional pilot career. Through a combination of both classroom and flight training, a student majoring in flight operations will acquire the following certificates and ratings: Private Pilot Instrument Multi-engine, Commercial, Certified Flight Instructor and Certified Instrument Flight Instructor. Training culminates with a Bachelor of Commercial Aviation degree within four years.
The aviation management degree prepares students for supervisory and managerial responsibilities at all levels in the aviation field, including the airlines, air traffic control and military aviation. Beginning this fall, the department will offer a new aviation management logistics track. This track is designed to prepare students in complex operations of transportation and distribution of goods.
The Master of Commercial Aviation program provides students with a focused understanding of aviation concepts and operations. This 30-hour program is oriented towards aviation management and aviation education, and is taught completely online.
For more information on aviation studies at Delta State, visit http://www.deltastate.edu/college-of-business/commercial-aviation/, or call 662-846-4205.