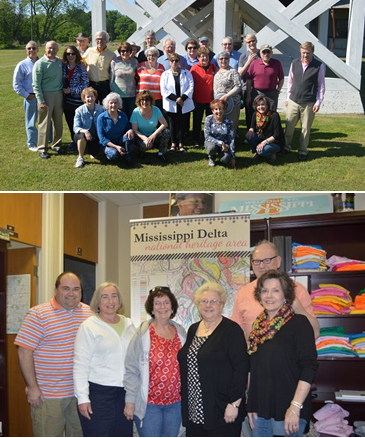 The Delta Center for Culture and Learning recently worked with two groups of Jewish travelers, providing introductions to the Delta's cultural heritage.
Rabbi Daniel Fellman led a group from Temple Concord of Syracuse, New York, on a civil rights heritage tour that stopped in Anniston, Birmingham, Montgomery and Selma, Ala., before arriving in the Delta and proceeding to Vicksburg, Natchez and New Orleans.
Rabbi Harry Cohen led a group from Temple Beth El in Minneapolis, Minn., starting their tour in New Orleans and stopping in the Delta on their way to Memphis.
Lee Aylward, of the Delta Center, introduced both groups to the Delta.  The Delta Center is the manager of the Mississippi Delta National Heritage Area, a partnership with the National Park Service.