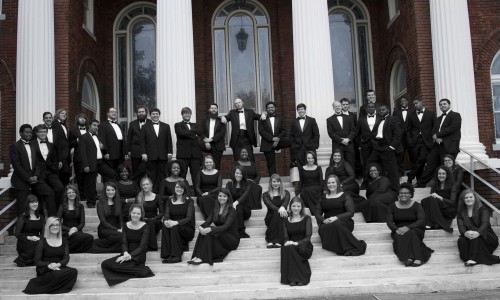 The Delta State University Chorale was selected by audition to perform at the Mississippi Music Educators Conference at the University of Southern Mississippi on April 4.
Only four total choirs were selected this year. Along with Delta State, also performing is the Desoto Central High School Chorale, directed by Delta State alumna Megan Morgan.
Director of Choral Activities at Delta State, Nicholaus B. Cummins, is excited to see the success of his current students and graduates.
"I am thrilled to share this honor with one of our Department of Music graduates," said Cummins. "Our students worked hard to earn this honor, and I cannot wait for their performance as it will continue to demonstrate the great things our Department of Music and our university are doing throughout Mississippi."
Friday's audience will be filled with students selected for the Mississippi All-State Choirs, other college music educators and K-12 vocal music teachers from across Mississippi. The title for this year's conference is "Shaping Mississippi Musicians One Note at a Time."
"The performance is a huge accomplishment for the students in Chorale and for the Department of Music because it will give us an audience of over 1,000 people in Mississippi, including over 500 middle and high school all-state honor choir students," added Cummins. "We can use this as a way to recruit these students to Delta State as both music majors and non-music majors that will participate in our ensembles while being a part of other majors on campus.
"I am so proud of our students for all their hard work this year. We have been singing at high schools on our way to Hattiesburg and have now sung for about 300 students prior to our arrival. It has been a really fun tour in preparation for tomorrow'a performance."
The Department of Music at Delta State University offers undergraduate degrees in liberal arts, music education and music performance. For more information, contact thee music office at 662-846-4615, or send an email to music@deltastate.edu.