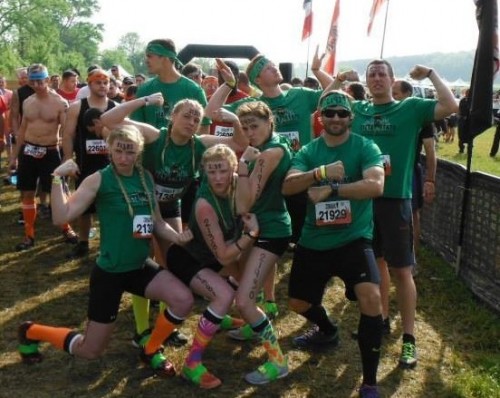 Students and a faculty member recently participated in the Atlanta Tough Mudder race representing Delta State as team Fear The Okra.
Seven students volunteered for six hours this past Saturday for more than 6,000 participants in various roles and then tackled the grueling, muddy and physically demanding 11-mile obstacle course in the hills of Georgia. Tough Mudder events are hardcore 10-12 mile (18-20 km) obstacle course challenges designed to test all-around strength, stamina, mental grit and camaraderie. With the most innovative obstacles and over one million participants globally to date, Tough Mudder is the premier obstacle course series in the world.
Todd Davis, director of Recreation Leadership and Outdoor Education, organized the team of eight.
"This is a chance to remain active in competition, but also build upon team and leadership values. I invite students to challenge themselves academically and through outdoor adventure, and I feel this is one more area where students need to be challenged – through teamwork and helping others."
Nick Zorn, a Sophomore member of the swim team from Roswell, Georgia, invited his parents to the event. They came not only to watch but also volunteered as part of an obstacle safety team.
"The Tough Mudder event is one of the most mentally and physically difficult challenges I have ever experienced in my life.  It allowed me to become  closer with the friends I ran it with.  Although I swim and am very competitive, this competition allows me to be challenged but also help others and be supportive in a way I've never experienced. I definitely want to run another one," said Zorn.
For Laura Nichols, a senior graduating  in a few days with bachelors in marketing and management from Columbia, South Carolina, this is her second Tough Mudder. She was part of an 8-person team that ran the Tough Mudder Houston, Texas event last October.
"TM is a great event that showcases camaraderie among friends and strangers. Volunteering and running for this event are great ways to motivate yourself to be the best version of yourself," said Nichols.
Heidi Nichols, twin sister to Laura, is a graduating senior in exercise science.
"Running would not be the same without the volunteering, I think. Volunteering the day before gives you a good idea of all the effort that goes into just one of these events (and they do hundreds a year). I'll be doing more…I WANT THAT BLACK HEADBAND. I don't think I would mentally be able to complete one on my own. Running with a team helps because just when you feel like giving up someone will start a chant, or yell encouraging words at you. And it definitely gives you the power to keep going," said Heidi.
Freshman Recreation Leadership major Evan Nicole Parker from Snellville, Georgia, said, "The Tough Mudder isn't a race, it's an experience. It takes more than just physical toughness. Running, volunteering and just meeting new people has definitely impacted my life for the better."
"Tough Mudder is one of the best team building events in the nation, and no one ever tells an interesting story about a 5K," said Christian Barrett, a two-time Tough Mudder Finisher and MBA student from Mobile, Alabama.
If you are interested in being part of the Mississippi Delta Tough Mudder Team and representing team Fear The Okra, contact Todd Davis at 662-846-4555 or tdavis@deltastate.edu.  To see photos of the event, go to: https://www.facebook.com/media/set/?set=a.647386355335821.1073741856.100001933880730&type=1&l=8ee8146ad0