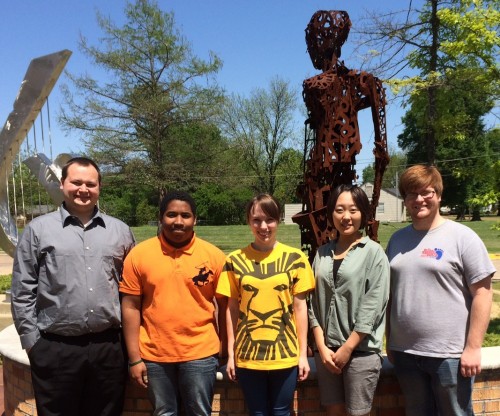 The Delta State University Department of Music will recognize ten outstanding student scholars and performers at the annual Honors Recital and Awards event to be held in the large hall of the Bologna Performing Arts Center on April 24 at 7:30 p.m.  The music majors represent the highest levels of success in music study, performance and future as a professional music teacher or skilled performer.
Five outstanding performers, who must achieve at least a 3.0 grade point average in music courses to be eligible to audition for music faculty, will be presented in recital. The performers are Monica Ely, a sophomore vocal performance major from Theodore, Ala., Minji Kim, a sophomore piano performance major from Seoul, Korea, Michael Sparks, a sophomore euphonium performance major from Cleveland, Joshua Terry, a senior vocal performance major from Memphis, Tenn., and Rory Young II, a junior music education major on saxophone.
Scholastic awards include recognition of recipients of three private music scholarships and two new student members of the Pi Kappa Lambda honor society for musicians (faculty and students).  New PKL members are Joshua Rushing of Saucier, Miss., and Joshua Terry of Memphis, Tenn., who will be inducted in a separate ceremony.
The Jeff Ross Capwell Endowed Music Scholarship Program, established in 1981, recognizes outstanding instrumental majors in the Bachelor of Music Education degree program. Capwell is a Delta State music graduate and Chairman and CEO of NCS, a diversified magazine sales company based in Memphis. The students chosen by the instrumental music faculty to receive the 2013-2014 Capwell scholarship are Sara Crowder, a freshman from Purvis, Miss., Joshua Rushing, a senior from Saucier, Miss., and Rory Young II, a junior from Corinth.
Christine Elizabeth Allmon, a junior vocal music education major from Southaven, is the recipient of the Maggie Flowers Ewing scholarship this year, awarded annually to an outstanding vocal major in memory of former First Lady of Delta State University, the wife of the late President James M. Ewing.
Scholarships for outstanding piano majors established in the name of Lacy Langford are being awarded to two freshmen, Basia Thomas, a piano performance major from Memphis Tenn., and Michael Hankins, a music education major from Grenada.
The department also presents annual awards at this event for service, philanthropy and career achievement as a musician and music educator by a Delta State music graduate. Delta State Librarian Rick Torgerson will receive a service award as a woodwind player. The philanthropy award recipient is the Tri-State Educational Foundation board member and music alumna Sara Ellington for contributions supporting music activities and purchase of new pianos. Vicki Blaylock, Delta State University music alumna, will receive the career achievement award for her distinguished career as a choral director, currently at East Central Community College in Newton, Miss.
The public is invited to attend the event and there is no admission charge.  The evening will conclude with a reception in the BPAC lobby for all in attendance.
For more information, contact the Music Department at Delta State at 662-846-4615.