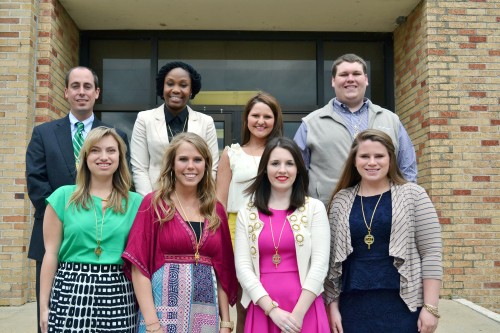 Delta State University's chapter of Omicron Delta Kappa held its initiation ceremony Monday at the Sillers Chapel on campus.
Eight new members were inducted to the national leadership honor society that recognizes college students, faculty, staff, administrators and alumni.
This year's initiates include: Virginia Taylor Adams, Katelyn Claire Cheatham, Carlee Eva Duhs, Jeffrey King Farris, FaDerricka BreNai Harvey, Katherine Elizabeth Holbrook, Stephen Brand Racine and Marley Anne Schiele.
Also announced at the ceremony was the 2014 Freshman Leader of the Year, named to Katherine Ann Locke, a music industry studies major from Vicksburg. Each spring, ODK selects a first-year student who shows good leadership and exhibits such qualities as high grade point average, propensity to be active in campus and community affairs and an assumption of leadership role.
"ODK is a special leadership society because it's not only an honorary group, but one that is based on leadership, involvement and participation," said Wayne Blansett, vice president for Student Affairs and ODK faculty advisor. "ODK members remain involved after initiation and make valuable contributions to the quality of life on the Delta State campus."
ODK was founded Dec. 3, 1914 at Washington and Lee University in Lexington, Va. In the tradition of the idealism and leadership of George Washington and Robert E. Lee, the founders stated that leadership of exceptional quality and versatility in college should be recognized.
They also believed representatives of all phases of college life should cooperate in worthwhile endeavors, and that outstanding students and faculty members should meet on a basis of common interest, understanding and helpfulness.
The motives that guided the founders sprang from the desire to bring together one body for the general good of the institution, leaders from all parts of the university community.
The Delta State University Circle of Omicron Delta Kappa evolved from the local leadership honor society, Omicron Delta, which was organized in 1967 under the guidance of ODK members William Cash, the late Jack Gunn, the late W. F. LaForge, and other interested faculty and staff members.
Since its establishment, the Delta State circle has recognized campus leadership among students and faculty, and has especially emphasized the value of free exchange of ideas among campus leaders and between student and faculty members of the circle.
Current leadership includes: Shelby McIntire, president; Dave Triplett, vice president; and Wayne Blansett, faculty advisor. The circle includes 35 current student members and 45 staff members.