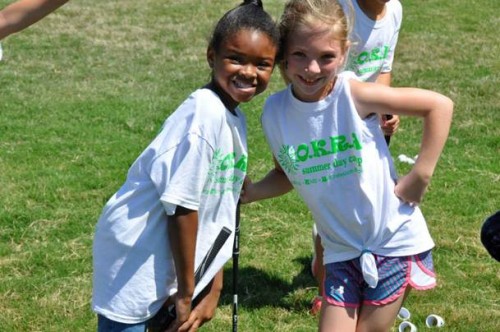 The fifth annual O.K.R.A. Summer Day Camp, directed by Todd Davis, returns to Delta State University on Aug. 4-8 for youth ages six to eight and Aug. 11-15 for youth nine to eleven years of age.
O.K.R.A. Summer Day Camp is hosted on the Delta State University campus at the Forest E. Wyatt Center and uses many Delta State facilities and fields, including the aquatic center, intramural fields and the Quadrangle.
The hugely successful day camp is a program of the College of Education and Human Sciences' Healthy Campus/Community Initiative and the Division for Health, Physical Education and Recreation (HPER).
Davis, who designed the first O.K.R.A. Summer Day Camp and has led it each year, is the director of recreation leadership under the Dave Heflin Professorship at Delta State.
"O.K.R.A. Summer Day Camp's mission is to provide an active, positive, and exciting environment for youth to participate in a variety of recreational opportunities," said Davis.
"O.K.R.A. provides area youth five days of structured indoor and outdoor recreational activities — kayaking, disc golf, floor hockey, interactive and team-building games, non-competitive team sports and other fun activities. The camp provides developmentally appropriate instruction that fosters a lifelong participation in recreational sports and activities."
Registration for the camp will open at 8 a.m., April 14, in the lobby of Delta State University's Forest E. Wyatt Center for HPER.  A $50 per youth application fee is required at registration. Cash and checks will only be accepted, and checks may be made payable to O.K.R.A. Summer Camp.
Completed registration forms must be delivered to the HPER administrative office on or after April 14. No registration forms will be accepted prior to 8 a.m., April 14.
Each camper is required to bring a towel, swimming suit, sunscreen, water bottle and a healthy snack and lunch. A schedule for days requiring swim attire will be provided once registered.
The camp is directed and supervised by recreational professionals, each certified in first aid and CPR. Due to a staffing ratio of 15-1 and facility use policies, the camp will be limited to the first 180 registrants on a "first-come, first-served" basis.
Hours for the camp are 8:30 a.m. to 4 p.m. Monday through Thursday and 8:30 a.m. to 1 p.m. on Friday.
Sixty scholarships (30 per week, 10 per age division) will also be available for families with severe financial needs. Scholarships will be chosen through a random lottery system. Apply for scholarships at the HPER building.
To fully enroll a child, you must fill out an enrollment form — available ONLY in Forest E. Wyatt Center or online at www.deltastate.edu/okrakidscamp, sign an informed consent and youth release of liability form, pay a registration fee of $50 per youth (cash or check only) and deliver all registration materials to the division secretary at camp headquarters in the Forest E. Wyatt Center.
The first 180 applications with fully completed enrollment forms and liability waivers submitted by 5 p.m., May 9, will be admitted.
For more information, please call 662.846.4555.