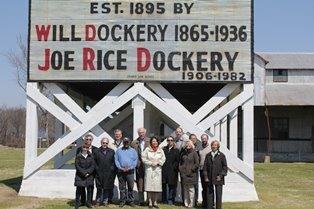 The Delta Center for Culture and Learning recently introduced representatives of the MacDowell Colony to the Delta's cultural heritage.
The MacDowell Colony is the oldest artist's and writer's colony in the U.S. The colony is located in New Hampshire, with offices in downtown New York City. Many famous composers, authors, architects and artists have received MacDowell Fellowships over the past 107 years.
This year's MacDowell group included Gary Giddins, author of biographies on Louis Armstrong and Bing Crosby, and Susan Gallin, a producer known for many shows on and off Broadway including Man of LaMancha, Who's Afraid of Virginia Woolf? and many others. Gallin is also known for the stage presentation of From the Mississippi Delta, written by Greenwood playwright Endisha Ida Mae Holland.
The group toured Memphis before spending two full days in the Delta, ending at the home of Panny Mayfield in Clarksdale where they watched soliloquies from the plays of Tennessee Williams. In Oxford, they participated in a special presentation of Thacker Mountain Radio that featured former MacDowell Colony Fellows, including Ole Miss faculty members Tom Franklin, author of Crooked Letter, Crooked Letter, and poet Beth Ann Fennelly, who recently co-wrote a novel with Franklin about the Great Mississippi Flood of 1927 tilted The Tilted World.
The MacDowell Colony's development officer, John Martin, is a former employee of the Delta Center at Delta State.